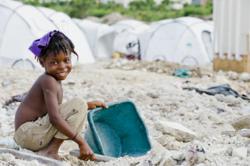 The fact that we are still delivering aid two years on from the earthquake just shows what a huge disaster this was.
Sarasota, FL (PRWEB) January 12, 2012
ShelterBox has been working closely with the International Organization for Migration (IOM) in Haiti to assist thousands of families in rebuilding their lives.
Exactly two years have passed since a 7.0-magnitude earthquake struck the Caribbean island of Haiti causing an estimated 230,000 people to lose their lives and making a further 1.5 million homeless.
Despite the international community's response to the enormous disaster, over 500,000 people have still been living in overcrowded camps on private land.
ShelterBox has been coordinating a project with IOM to help families to either return to their place of origin or set up homes in a new location they have identified. Emergency shelter—tents and emergency equipment have been distributed to these displaced families to enable them to finally start to rebuild their lives.
"IOM and ShelterBox have been working in partnership in Haiti since February 2010," said Luca Dall'Oglio, the IOM Chief of Mission. "Initially a Health Team program saw ShelterBox tents utilized to provide patients injured in the earthquake with a safe place to live and recuperate with their families."
ShelterBox solution only option
In many cases the landowners are using violent methods to evict the families from the camps on their land. These families do not have the time to wait for the transitional shelter or reconstruction programs, which have been slowed down due to various challenges, including and the cholera outbreak that has killed nearly 7,000 Haitians since it began last October. For these families, the ShelterBox solution is the only option.
"IOM were able to support delivery logistics and the partnership has continued strongly throughout the emergency response as we work towards interim relocation or returning families to their land," added Dall'Oglio. "The durability of the ShelterBox tents and the non-food items that also come in the box have been a key incentive to encourage families to leave overcrowded camps and begin to rebuild their lives."
Tom Lay, ShelterBox operations coordinator, has been in Haiti working with the IOM:
"Helping families to restart their lives after a disaster is exactly what ShelterBox endeavors to achieve," said Lay. "The fact that we are still delivering aid two years on from the earthquake just shows what a huge disaster this was."
Lasting relationship
"We hope that this partnership will form a lasting relationship as we tackle the problems faced by families around the world in the aftermath of disasters," said Dall'Oglio.
Over 28,000 ShelterBoxes were sent to Haiti, the greatest number that ShelterBox has ever sent out to a single disaster. This was only possible thanks to the tremendous support from ShelterBox supporters throughout the crisis.
Read more of Tom Lay's experience in Haiti at http://shelterboxusa.org/news.php?id=922.
View images from the deployment in Haiti in 2010 on the ShelterBox Flickr page here: http://www.flickr.com/photos/shelterboxuk/sets/72157623123794665/
ShelterBox has teams working in the Philippines due to flooding caused by Typhoon Washi and in Brazil following flooding and landslides that have left more than 3,000 families displaced.
Since 2000, ShelterBox has delivered humanitarian aid in the form of equipment and materials that provide shelter, warmth and dignity to people affected by natural and other disasters following more than 170 disasters in 80 countries. ShelterBox's American affiliate, ShelterBox USA is nationally headquartered in Sarasota, Florida. Individual tax-deductible donations to ShelterBox USA can be made at http://www.shelterboxusa.org or (941) 907-6036. Location and time specific donations cannot be accepted.
# # #