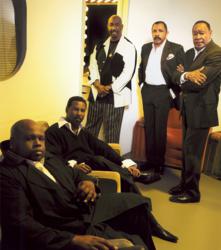 "We are honored to have hundreds of children, parents, teachers, elected leaders, and reform advocates helping us plan the biggest education reform party in American history." -- Andrew Campanella
New Orleans, LA (PRWEB) January 12, 2012
In just nine days, National School Choice Week will kick off in New Orleans, Louisiana with a blockbuster party featuring The Temptations, Ellis Marsalis, and thousands of participants from across the country. The event will be held on Saturday, January 21, 2012 from 10:30 AM to 12:30 PM at the Lakefront Arena on the campus of the University of New Orleans, and there is no cost to attend.
Organizers today announced that in addition to The Temptations and Ellis Marsalis, three additional groups will perform at the event. The Dragon Master Showcase break dancers, recently featured on NBC's "America's Got Talent," will perform along with the famed "Marching 100" band from New Orleans' St. Augustine High School and their female counterparts from Xavier University Preparatory High School's band.
Dozens of schools from across Louisiana will bring students to the celebration, and individual attendees are also welcome. (RSVPs requested at http://www.SchoolChoiceKickoff.com). School choice advocates from across the country are expected to travel to Louisiana to participate.
"National School Choice Week is thrilled to host this kickoff event in New Orleans," said Andrew Campanella, vice president of public affairs for National School Choice Week. "We are honored to have hundreds of children, parents, teachers, elected leaders, and reform advocates helping us plan the biggest education reform party in American history. Working together, we will show the nation that school choice—just as it has taken root and thrived in the Bayou State—is possible and effective."
National School Choice Week (January 22-28, 2012; http://www.SchoolChoiceWeek.com) provides an unprecedented opportunity, every January, to shine a spotlight on the need for better education options for all children. Planned by a diverse and nonpartisan coalition of individuals and organizations, National School Choice Week spotlights great schools of all sorts – from public schools, to public charter schools, private schools, virtual schools, and homeschooling.
To learn more, visit http://www.SchoolChoiceWeek.com
# # #