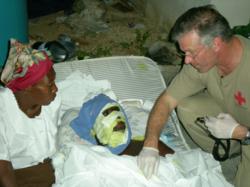 We are blessed with so much in this country, it is such a blessing to share with those who have so little.

David Vanderpool, MD
CEO
Mobile Medical Disaster Relief
Brentwood, TN (PRWEB) January 12, 2012
Mobile Medical Disaster Relief, http://www.mmdr.org, returns to Haiti to mark the second anniversary of the crushing earthquake which hit Haiti. Today marks the second anniversary of the earthquake which hit Haiti. At 4:53 pm 330,000 people were killed and close to one million were injured in the worst natural catastrophe in recent history. While billions of dollars and man hours have been spent, Haiti still lies in ruins.
Close to a million people are still living in squalid tent cities with insufficient water, food and hope. UNICEF estimates that there are 380,000 orphans in Haiti, most of whom receive insufficient care. There is still no clean water, minimal electricity, no sanitation, no jobs and scarce food and medicine.
Cholera is still rampant, claiming the lives of thousands of people who have no choice but to drink contaminated water. As we go about our day today, eating more than we should, drinking clean water from our faucets, enjoying easy access to the best health care in the world, let's consider our neighbors in Haiti living desperate lives and dying horrible deaths only two hours from our border.
Pray for the mothers and fathers who are losing their children to the painful death of cholera. Pray for the grandmothers who are slowly losing the battle of starvation.
Make a decision to help. Live Beyond...
Mobile Medical Disaster Relief
[http://www.MMDR.org __title__ MMDR]
###