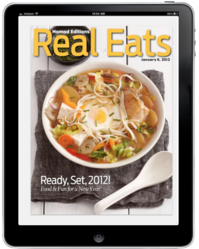 New York, NY (PRWEB) January 12, 2012
Barbara Fairchild, Editor for ten years of Conde Nast's Bon Appetit Magazine, has published her first issue as Editor of Nomad Editions' Real Eats (January 6, 2012 issue).
"Sean Elder, my unflappable predecessor as Editor of Real Eats, has handed over to me a smart digital publication," Fairchild said. "So there's no need to 'fix' it. I do want to expand its outlook a little and give it a tweak here and there as we go forward into a new year in our delicious -- and sometimes crazy -- world of food."
Fairchild has introduced a new column to Real Eats, TGIF, designed to showcase a recipe or two that might "get you into the kitchen over the weekend for a little R&R." She says that in the future, readers of Real Eats will find more foodie travel, restaurant features, and profiles of interesting people.
Fairchild plans to continue to tap the talents of regular writers for Real Eats like Serena Bass, Michelle Wildgen, and Elisabeth Gerber-Paul. In the January 6 issue of Real Eats, Bass discovers the wonders of the Italian black rice with a forbidden past, Wildgen goes retro with the cooking show French Food at Home, and Gerber-Paul whips up a bourbon-apple cider concoction designed to lift the winter blues.
Real Eats made its debut under Sean Elder's direction in December 2010, as one of the first mobile titles launched by Nomad. From its inception, Real Eats has covered not only the most interesting trends in food, but also the stories of the people who grow and make our food, and how food makes its way from farm to table.
Nomad Editions currently publishes two other digital weeklies in addition to Real Eats: BodySmart, a guide to intelligent weight loss, and Uncorked, which covers the world of wine, focusing on finding the best values. All three digital weeklies are available through the iPad Newsstand.
Nomad Editions also creates custom digital publications for other publishers and for major marketers.
ABOUT NOMAD EDITIONS
Nomad Editions is a unique media marketplace that provides readers with digital publications specifically for mobile devices. High-quality editorial and rich multimedia capabilities are enhanced by new technology that creates a superior experience for readers.
Nomad Editions' three digital weekly magazines, Real Eats, BodySmart, and Uncorked are available through the iPad Newsstand.
Nomad Editions was founded by Mark Edmiston, former Newsweek President and long-time media investment banker, and media veterans Marjorie Martay and Jock Spivy.
# # #