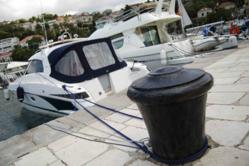 With boat theft on the increase owners need to be more aware of what can be done to protect their property - Even public areas such as Trade shows cannot be considered completely safe
London (PRWEB) January 13, 2012
Shieldbase will use their new Blog to provide readers with news and articles on Vehicle Tracking and Security and keep them informed of developments in the industry.
With their first Blog post, the company have focused on marine security and find that thieves appear to be targeting outboard motors in particular at the moment, with outboards being the most reported item on the stolen boat register.
Shieldbase believe that if boat owners are made aware of the dangers, and put into practice some simple safety measures, their boats will make a far less attractive target for criminals.
"With boat theft on the increase owners need to be more aware of what can be done to protect their property - Even public areas such as Trade shows cannot be considered completely safe" says Chris Peterson Shieldbase press officer.
About Shieldbase: Shieldbase provide products for Fleet Management, GPS Tracking, and Telematics. They cater to a variety of sectors including the Haulage, Local Authority, Agriculture, Marine, and Construction industries.
Shieldbase blog article:
15 Ways To Prevent Boat Theft
# # #