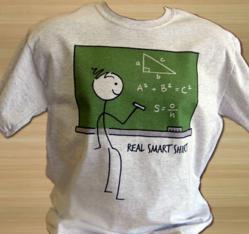 At Real Smart Shirts we take geek t-shirts seriously.
Manorville, NY (PRWEB) January 19, 2012
Tired of seeing t-shirts showcasing athletics, spoiled princesses, college humor or offensive slogans? New Internet clothing company http://www.realsmartshirts.com provides the antidote to the glut of gender specific /pithy and offensive shirts that have oversaturated the t- shirt market. Real Smart Shirts specializes in clothing that brings out your "inner geek". With its signature "stick figure" as well as its designs that incorporate science, math, computers, literature, music and more, http://www.realsmartshirts.com sells shirts that will announce to the world a love for academics.
One can show their love for mathematics with clever designs such as "I have an imaginary friend"(with a picture of the square root of -1) and "They tell me I'm special" (with a picture of a 3,4,5 triangle). Or show general "nerdy pride" with Real Smart Shirt's stick figure mascot. Ordinary "Stick" shows off his extraordinary smarts in several designs as a doctor, dentist, computer scientist, musician and book-lover. Truly a breath of fresh air in the t-shirt market, http://www.realsmartshirts.com offers shirts that make unique gifts for teachers, professors, mathematicians, scientists, students and others that simply wish to display their love and respect for the world of academia. Real Smart Shirts also are great items for college bookstores, science museums, musical groups or simply as company morale boosters. In addition, these shirts do very well in schools for fundraising and academic clubs. All Real Smart Shirts can also be personalized with slogans and logos to fit the customer's needs for bulk and wholesale orders.
About Real Smart Shirts: Real Smart Shirts specializes in academic shirts that showcase "nerd pride". This company was created because of the high demand for adult-sized academic shirts on the sister site http://www.clevercuties.com. Visit http://www.realsmartshirts.com today for great deals on "smart shirts" and show the world that geeky is pretty darn cool after all!
###