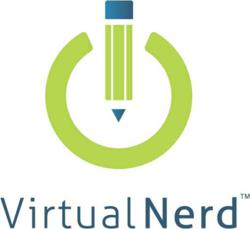 Virtual Nerd School Edition is an all-in-one tool for planning, assessment and intervention. Teachers can use it to more easily create and administer assignments, and keep track of how students are doing on them.
St. Louis, MO (PRWEB) January 17, 2012
Virtual Nerd today announced the release of its new School Edition to help middle school and high school teachers develop customized lesson plans in math. Virtual Nerd School Edition works as a teaching supplement that allows teachers to create and offer more personalized assignments to gauge student performance and engagement, and measure improvements in real-time.
"The School Edition Playlist feature simplifies the process of making assignments," said Sarah Asma of the Merit Learning Center. "It is a tool that enables me to deliver personalized instruction, gather real-time feedback on how my kids are doing and take immediate action so they are getting the most out of class."
Virtual Nerd's instructional online service was created to provide the benefits of one-to-one tutoring at a fraction of the cost with the added convenience of 24/7 access. Over 1,400 interactive video tutorials are available in the Dynamic Whiteboard® instructional platform, allowing students to drill down into math problems using a step by step approach. The School Edition incorporates the instructional platform and content with tools for teachers and administrators to support planning, assessment and intervention.
Virtual Nerd School Edition enables teachers to quickly create and organize assignments for an entire class or for an individual student, from remedial to advanced. Administrators also have real-time access to comprehensive reports that allow them to view performance at the student, classroom, school and district levels.
"Virtual Nerd School Edition helps teachers keep the focus on learning," said Leo Shmuylovich, Co-Founder of Virtual Nerd. "It works as an all-in-one tool for planning, assessment and intervention. Teachers can use it to more easily create and administer assignments, and keep track of how students are doing on them."
Using the School Edition Playlist feature, teachers choose the videos and lessons suited to their assignments and to the particular instructional needs of a student or class. Students then personalize their learning path by clicking through key concepts covered in each video. In addition, teachers use Playlists to bookmark video tutorials and build a corresponding list of practice problems, write personalized notes to provide additional guidance, and add material from outside sources like YouTube.
The Smart Reporting feature lets teachers see when each assignment was last accessed, as well as usage and performance data showing how many students viewed and completed the assignment. Teachers then review performance data at the individual level to learn where each student is excelling and where they need more intervention.
School administrators who want to learn more about implementing Virtual Nerd School Edition can email schools(at)virtualnerd(dot)com or call 877-677-NERD (6373).
About Virtual Nerd
Virtual Nerd (http://www.virtualnerd.com) offers over 1,400 math tutorials covering grades 6–12 in its patent-pending Dynamic Whiteboard®. The multimedia instructional content is delivered online, providing a highly interactive and personalized learning experience. Students using Virtual Nerd take a personalized path and learn at their own pace to achieve a fundamental understanding of math concepts. Teachers and administrators benefit from Virtual Nerd School Edition's integrated planning, assessment and intervention tools.
###