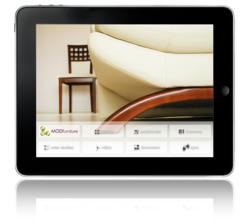 (Showcase mobile app) offers everything a sales rep wants and needs to manage and increase sales.
Ann Arbor, MI (PRWEB) January 13, 2012
Logic Solutions, Inc. announces the launch of Showcase, a revolutionary sales force automation solution. Showcase is an elegant tablet-based sales system developed for companies who sell products through field sales reps.
Showcase offers an interactive product catalog, quote creation, order transaction, inventory access, customer lookup, a sales material library, merchandise comparison, cross-sell and up-sell suggestions, geolocating, two-way (delta) synching between the remote user and company database, and much more.
The solution has three primary components: Showcase for iPad, Showcase CMS, and Showcase Sync. Showcase for iPad is the front-end mobile app. Showcase CMS is the Content Management System that manages product data, customer information, permissions, imagery, and more. Showcase Sync is the mechanism that synchronizes data between the mobile devices and back-end database.
Customers may choose to supplement the basic functionality package by adding customized features, tailoring the app to their organizations' specific needs. For example, Showcase can be integrated with a company's existing CRM to populate customer information.
Showcase streamlines and accelerates the sales process by providing a means for sales reps to easily show, quote, and transact orders at the point of sale. A rep can sync orders for immediate fulfillment or processing, minimizing human error and reducing costs. Business managers will also have quicker and better access to sales analytics, for productivity evaluation.
Logic Solutions' CEO Jimmy Hsiao states, "We are thrilled to have engineered such a ground-breaking product—it offers everything a sales rep wants and needs to manage and increase sales, and it also pleases management by improving profitability."
In addition to completing development on two high-profile early adopters from 2011 sales efforts, Logic expects a big year for Showcase in 2012 with several marquee signings in January. Showcase will be available on Android later this year.
About Logic Solutions
Founded in 1995, Logic Solutions, Inc. is a privately held minority-owned corporation with headquarters in Ann Arbor, Michigan, and offices in Irvine, Hong Kong, Shanghai, Beijing, and Nanjing. Logic provides technology solutions and services, including custom mobile strategy and application development, web applications, and comprehensive websites.
Logic's mobile development expertise is evidenced by its impressive portfolio of technologically sophisticated B2B apps developed for companies in a wide array of diverse industries. Logic specializes in apps that streamline sales force processes, including Showcase.
Showcase is more than an app, it's a sales revolution. More information is available at http://www.logicsolutions.com and http://www.showcaseforipad.com.
# # #