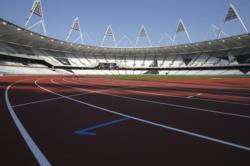 This is an amazing opportunity for those in Dorset who are inspired by London 2012 to get active and raise money for charity.
(PRWEB UK) 13 January 2012
To be in with a chance of winning this opportunity of a lifetime, Diverse Abilities Plus is asking local people, including schools, businesses and community groups, to sign up and take part in the Gold Challenge's 2012km Challenge. This involves teams collectively covering a distance of 2012km by undertaking various sports, e.g. running, swimming, rowing, walking and canoeing, and for the less ambitious, teams have the option to undertake 201.2km.
Teams have until the end of 2012 to complete the challenge, but to win the prize the two teams that have raised the most sponsorship by Friday 24 February will go on to run the 100m track in front of friends, family and a cheering crowd of 20,000. Team GB legends, celebrity ambassadors and over 150 charities will also be in attendance and the winning teams will take part in a Gold Challenge parade.
As part of the prize, the two winning teams will also experience the following:

A fan-fair send-off
Entry to the Olympic Park via F10 Bridge
Fast-track runner entry through security
Pre-race warm up with an athlete on the indoor track
Entrance to the stadium via the official athlete route
One lane in a 100m race, photo finish & goody bag
One guest pass for a stadium seat.
Ashley Weedon, Community Fundraiser at Diverse Abilities Plus, said: "This is an amazing opportunity for those in Dorset who are inspired by London 2012 to get active and raise money for charity. Those that take part could be one of the first people in the world to run 100m on the track that will see the stars of Team GB and Paralympics GB compete against other world-class Olympic and Paralympic athletes in the summer of 2012."
She continued: "We are urging everyone in Dorset to get involved and support Diverse Abilities Plus by taking part. Once signed up, make sure you start fundraising as soon as possible to be in with a chance of winning a place on the Olympic running track in April. Your help will provide invaluable support for the charity supporting hundreds of children and adults with profound physical and learning disabilities."
Dan Thompson, Gold Challenge Executive Chairman and Founder said, "I am thrilled that Gold Challenge is hosting this important event in the lead up to the Olympic and Paralympic Games. What greater inspiration to take up a challenge and raise money for charity than a chance to go to the Olympic Stadium."
To sign up for the 2012km Challenge and to be in with a chance of winning please contact Ashley Weedon directly on 01202 718266 or email ashley.weedon(at)diverseabilitiesplus(dot)co(dot)uk
For more information on Diverse Abilities Plus please visit http://www.diverseabilitiesplus.org.uk. You can also follow the charity on Twitter at http://www.twitter.com/DiverseAbility and on Facebook http://www.facebook.com/diverseabilitiesplus
Editors Notes
Gold Challenge
Gold Challenge is partnered with Team GB / British Olympic Association and is the UK's first Olympic and Paralympic sport-based charity challenge.
Diverse Abilities Plus
Diverse Abilities Plus is a charity that has been supporting children and adults with Cerebral Palsy and associated disabilities working in the County of Dorset, England for 55 years. The charity provides a range of assistance, support and education services for young people aged two to 19, adults and families. Services include:

Langside School – independent, non maintained specialist day school for children and young people from the age of two to 19 years who have PMLD (profound and multiple learning disabilities). It's one of only 19 similar SEN (special education needs) schools in the UK.
Smithers – provides overnight and day short breaks. Short breaks help families manage the challenges of providing full time care for their child. A visit can be during the day or a 'sleep over' allowing the child to make and meet friends and relax and enjoy themselves.
Shapes – provides home support (domiciliary care) for children and young people aged between two and 18 with individually tailored programs.
Project My Time – provides child-led holiday activities that give young people with disabilities the same leisure and fun opportunities that their peers enjoy.
Barnabas – a well equipped day setting for adults. Adults can learn new skills and enjoy a wide range of experiences.
Supported living – this service is for people who live in their own home but may need up to 24/7 support.
Disability Wessex - offers assistance with disability benefits for people with disabilities or chronic and acute health conditions and their families or carers, as well as the parents of disabled children.
Play Opportunities - supports families with disabled children to have a chance to get out and enjoy themselves with other families in similar situations.
Awesome Days and Awesome Nights – A youth group, set up and run by young people of all abilities, aged between 13 - 19 years.
Face 2 Face – a free and confidential network of trained volunteer befrienders, who support parents to make positive adjustments to the news that their child has a disability or additional need. Every Face2Face befriender is a parent whose own child has a disability. They know what it's like to cope with a new diagnosis and can offer support parent to parent.
The charity was founded in 1955 by Mrs Phyllis Edwards who formed a group of parents intent on providing better opportunities for their children with physical and learning disabilities.
For more information
Contact: Zoe Hiljemark, PR Account Director / Jenny Pearce, Senior PR Account Executive
E-mail: zoe(at)marketing-matters(dot)co(dot)uk / jenny(at)marketing-matters(dot)co(dot)uk
Tel: +44 (0) 1202 777111 / +44 (0) 7770 924439
Address: Marketing Matters, Unit C, Acorn Business Park, Ling Road, Poole, Dorset, UK, BH12 4NZ
# # #