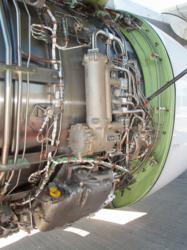 Westmoreland NH (PRWEB) January 17, 2012
If there is a need for a durable label for use in the Aerospace industry then one would know that Tedlar is a key material. Engineers also may know how difficult tedlar has become to get a hold of and the dramatic increase in cost when you do.
The XF-603 is a flame retardant polyimide label material designed to work in the avionics, aerospace and military applications. XF-603 material is intended to be used in harsh environments, including applications that require materials that will not propagate a flame. Polyonics combines special coatings and halogen free flame retardant technologies with the high temperature resistance of polyimide film to provide a durable label material that meets the challenging requirements for the aerospace industry including:

FAR 25.853 and 25.855
Halogen Free IEC 61249-2-21
Recognized by UL, UL94 VTM-0 rated – file no. E338081
XF-603 is coated with a high opacity, gloss white topcoat designed for flexographic and thermal transfer printing. Bar codes, graphics and text information printed with the proper inks or thermal ribbon will withstand the high temperatures, harsh chemicals, and solvents.
The XF-603 is a perfect material for tracking, instructional, warning, component identification labels or wire and cable marking applications.
The XF-603 complies with the requirements of RoHS, REACH, and is certified to be halogen free to the IEC 61249-2-21 levels.
THis material has Significant "self-extinguishing" performance. Flame test demonstration
To receive technical information or samples of this new innovative product, please contact a technical expert at +1 (603)352-1415 or email at info(at)polyonics(dot)com
###