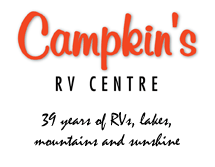 Campkin's RV website traffic surpassed one million inventory page views for the very first time.
Whitby, Ontario (PRWEB) January 14, 2012
Campkin's RV Centre, serving southern Ontario in Canada, reports a very strong "Fall Selling Season" and attributes it to "Overwhelming Internet Traffic." 2011 was the company's very best year since it started in 1973.
Campkin's RV uses a combination of Search Engine Optimization and online and traditional marketing techniques. The most important tactic, according to Owner and Sales Manager Brad Campkin, has been ensuring that ALL of their New RVs and Used RVs are being advertised, through multiple channels, with detailed descriptions, lots of pictures and posted pricing. "Our SEO/Web partner, SynergyPro Solutions, makes sure each product page has the best chance of being indexed by Google and the other search engines."
Campkin's RV website traffic surpassed one million inventory page views for the very first time. "Going from approximately 350,000 in 2010 to over a million in 2011 definitely has kept our sales department much busier, in fact we've even had to hire two more sales people to keep up," says Brad.
Traffic is a great barometer of your company's online health but conversion rates are the true indicator of fitness. The Campkin's RV Centre conversion rate is higher than ever - "We track each contact made and are seeing just under 50% of our calls and emails from the website converting to visits at the dealership!" Campkin also says having the SELLING PRICE on the website, not "Call for Price" or "fill out a form to get the price" has made a huge difference. "People come in knowing what to expect and are all set to look at the RVs they saw online," he says.
New this past year, Campkin's launched Canada's first RV Parts and Accessory Store. Many dealership Parts & Accessory offerings are just a link to a third party supplier's online catalogue. Campkin's RV has created an RV Parts Store that lists the actual inventory in their Accessory Showroom and allows customers to place orders and pay by credit card instantly. "We have made it easy for our customers to shop online, again making our Website our most important marketing tool year-round," says Brad. "The future is here and we embrace it!"
We have also created a Mobile Website for Smart-phones and Tablets so that when our customers are on the go… on the road in their RVs, they can access our Parts and Accessory Store right from their mobile devices, they can book a service appointment, locate or call us with a click of a button, plus all our inventory in stock is accessible from our mobile website.
Last but not least Campkin's RV Centre has an iPhone App, available on the iTunes Store, that is really quite popular. Brad says "We are getting a lot of new subscribers who now receive our 'push notifications' of daily news and events at the dealership, up-to-the-minute specials, clearance pricing and much more."
You can follow Campkin's RV on Twitter or join them on Facebook. Find all the links on their website: http://www.campkins.com
Campkin's RV Centre is in Myrtle Station, North Whitby, Ontario, Canada. They have served the southern Ontario RV market since 1973, offering full year round service, an RV Accessory Showroom and the top selling brands of towable RV's in North America. Campkin's RV is a member of the RV Care Network, a Canada wide Dealer Network that looks after customers travelling from coast to coast.
# # #