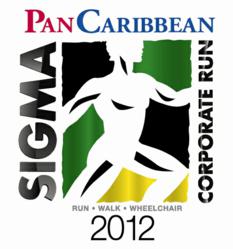 'Play your part, Save a Heart'
Kingston, Jamaica (PRWEB) January 12, 2012
The highly anticipated PanCaribbean Sigma Corporate Run 2012 is now accepting registration for teams, groups and individuals. All persons interested in taking part in the 14th staging of Jamaica's biggest road race are encouraged to access registration forms online at http://www.gopancaribbean.com, or through their team leader for corporate teams. Registration closes on or before February, if the maximum of 15,000 participants is reached prior to this date.
The PanCaribbean Sigma Corporate Run 2012 has set a record target of $50 Million to mark Jamaica's 50th Anniversary of Independence. The funds are earmarked for Chain of Hope Jamaica in support of the Cardiac programme at the Bustamante Hospital for Children. This effort is supported by three distinguished patrons: Her Excellency the Most Hon. Lady Patricia Allen, Dr. the Hon. R. 'Danny' Williams and Dr. the Hon. Usain Bolt. All registration fees go toward the charity, and this year, PanCaribbean is also inviting contributions of J$50 by text to 444-2498 on the Digicel network while larger contributions in Jamaican or US Dollars may be made by deposits to the following accounts; PanCaribbeanBank A/C#0210199462 (J$), PanCaribbeanBank A/C#0210199470 (USD) or) Citibank A/C# 0017588338
Chain of Hope Jamaica is working towards building a sustainable paediatric cardiac programme at the Bustamante Hospital for Children, which will serve as a center of excellence for the Caribbean. The project is broad in scope and includes the construction of a 10 bed ICU, a badly needed catheter laboratory and an operating theatre. In addition to the building and equipment, the project involves the extensive training of medical and support staff to increase the pool of available health service providers with required specialized skills. The impressive project is estimated to cost US$5M and will benefit over 400 Jamaican children per year that are born with heart disease and children here in other parts of the Caribbean that require intensive care.
PanCaribbean's Sigma Corporate Run 5K Event will be held on Sunday, February 19, 2012 under the theme 'Play your part, Save a Heart', with partners The National Health Fund, Reggae Marathon and Sagicor Life Jamaica. Gold sponsors, Catherine's Peak, Digicel Jamaica, The Gleaner Company, National Baking Company, Puma and RJR Communications Group; Silver sponsors include Advertising & Marketing, King Alarm, Pepsi Cola Bottling Company and Stewart's Auto and Bronze sponsors, Caribbean Broilers, National Outdoor Advertising and Nestle' Jamaica.
###