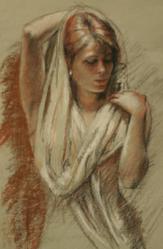 "Drawing Secrets Revealed" online drawing course now offers a BONUS lesson as well as more pricing options.
Chesapeake, VA (PRWEB) January 13, 2012
Sarah Parks, Fine Artist, has developed a new lesson to punctuate her online drawing course, "Drawing Secrets Revealed," which has earned the 5-Star Award from the DownloadPlanet.com. Formerly split between lessons 11 and 12, the concept of Linear Perspective has been combined into a single lesson to make room for an additional concept, Elements of Composition. Sarah believes the new lesson 12, "Elements of Composition," is "too advanced to be included at the beginning of a drawing series, but once a student masters the foundational concepts explained in the first eleven lessons, he or she will no doubt want to begin to work with larger compositions that contain multiple elements." The topic of composition focuses on organizing, arranging, and combining the elements of design you want to include in your drawing or painting in a way that captures the attention of the viewer and keeps them interested. Many people assume that good artists seem to instinctively know the "secrets" to creating a great work, but really they are artistic devices that can be learned and, when applied, will build a strong, aesthetically pleasing drawing or painting that will intuitively engage the viewer. Many drawing courses leave this important subject out. The student then faces the daunting task of arranging a composition without any understanding of how best to do it.
It is this addition to the series that leads Sarah to believe she has created a "complete package" for any student to learn to draw, and one that will provide students with not only essential drawing skills but also a "what next" to lead them straight into their own artistic journey. Lesson previews on Sarah's YouTube channel, sarahparksartist, have been created for Lessons 1-11, and Sarah assures the new Lesson 12's preview will not be far behind.
Sarah continues to update her series by offering a variety of pricing options for people who want to learn to draw. In addition to her original $27/mo. membership option, visitors to the "Drawing Secrets Revealed" website will also be able to purchase the entire program outright for $68, or just access a single lesson on a topic that interests them for only $7. Now, folks can have the convenience and price point that works for them. All pricing options are clearly explained on the Drawing Secrets Revealed homepage.
# # #