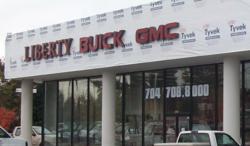 "Buick GMC has the potential to have the best overall single year in over 10 years," says McCorkle.
(PRWEB) January 13, 2012
Scott McCorkle's Liberty Buick GMC Trucks announced yesterday that they beat their own sales record in December. The dealership finished 13th in rankings for the southeast and it is now ranked higher than 96% of Buick GMC dealers nationwide. Out of over 3000 plus dealerships McCorkle's ranked 97th.
"Buick GMC has the potential to have the best overall single year in over 10 years," says McCorkle.
McCorkle's announcement comes on the heels of GM's announcement last week of 8.4 million in global vehicle sales, poising the company to retake the title of world's largest volume automaker. GM's profits, in the billions for 2010, went up 14 percent in the United States. For the second year in a row, car sales in the U.S. went up by more than one million and a large portion of that was GM sales.
McCorkle is just putting the finishing touches on the new state-of-the-art dealership on Independence Boulevard and says it offers, "…world class service and products to our customers with this great facility and with our outstanding personnel."
Indeed GM seems to be on a roll, producing a line of vehicles that are consistently surpassing the competition in customer satisfaction, safety and efficiency. The 2012 Buick Verano has been named a Top Safety Pick for 2012 by the Insurance Institute for Highway Safety. This completes a clean sweep of Buick cars earning the award. General Motors earned a total of 14 IIHS Top Safety Picks for 2012, a major accomplishment. And the Buick LaCrosse, Regal and Enclave models were carryover winners from 2011 testing.
Earning an IIHS Top Safety Pick award requires a vehicle to provide extreme driver and passenger protection which must be demonstrated in both front and side crash tests. Roof strength is tested in rollover tests and simulated rear impacts evaluate seat and head restraints. Vehicles must also have electronic stability control.
Buick's innovative eAssist Technology improves vehicle fuel efficiency by adding a compact electric motor and state-of-the-art lithium-ion battery to a 2.4L four-cylinder ECOTEC engine, improving fuel economy by an estimated 25%. The 2012 LaCrosse and Regal are the first vehicles available with eAssist Technology.
Along with the new eAssist line of vehicles, McCorkle says, "The new Buick Regal GS and Verano have just arrived and the all new Buick Encore or 'Baby Enclave' is arriving soon!"
McCorkle is determined to move to the very top of the list for all Buick GMC dealers and says, "We're also offering 30-day 110% tire price guarantee and free alignment inspection."
LMC Automotive, who acquired the auto forecasting division of J.D. Power & Associates in November, estimates a steady rise in U.S. auto sales to 13.8 million in 2012, 15.4 million in 2013 and 16.2 million in 2014. If the predictions are correct American sales would be restored to prerecession normalcy, if not to the 17.4 million peak of 2000 with GM leading the way.
###