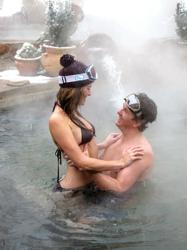 Skiers are finding the best snow in the country in northern New Mexico this year, and its no wonder after an exhilarating day on the slopes, they're are heading to Ojo's soothing hot springs to relax and rejuvenate. -Wendi Gelfound, Marketing Director
Ojo Caliente, NM (PRWEB) January 12, 2012
After enjoying the best skiing in 2012 to date, Ojo Caliente Mineral Springs is offering a Ski & Soak package for lift ticket and season pass holders from any New Mexico ski resort to rejuvenate and soak their bones in the 143 year old resort's legendary, healing waters for 20% less. With the Rim Road from Taos Ski Valley to Santa Fe now paved, there is a better way for ski enthusiasts living south of Taos to beat the traffic and stop, soak, relax and reinvigorate along the way. For ski reports and more information, visit here. For the recent New York Times article, read here.
Just south of Taos you'll find Ojo's secluded sanctuary. One of the oldest natural health resorts in the United States, Ojo is the only hot springs in the world with four different, sulphur-free, healing mineral waters. The property is modern and fresh, with historic charm, in a tranquil and relaxing environment.
Choose from 11 mineral pools, including 3 private outdoor pools with kiva fireplaces, and a eucalyptus steam and sauna to melt away the body stress and ease into rejuvenation.
Combining a soak in the hot springs with a spa treatment provides the ultimate relaxing experience for both mind and body. The diverse spa menu offers a full array of restorative therapies, including nurturing massage and hydrating wraps, scrubs, and body treatments.
The Artesian Restaurant provides a casual dining experience and charming atmosphere. Our chef blends local flavors with global cuisine to create a delightful menu that ranges from seasonal Southwestern favorites to a variety of international dishes. Lighter fare, including homemade pizzas, burgers and green chile fries, plus an extensive selection of local and imported wine and beer are available in the Wine Bar & Lounge.
Lodging options range from the Historic Hotel to charming cottages, enchanting suites with kiva fireplaces, and private homes.
The Springs' diverse landscape ranges from the lush river valley to stunning high dessert mesas – all of which contain numerous hiking and biking trails. The more adventurous will enjoy over 15 miles of newly mapped mountain biking trails plus a more level 2-mile Bosque River Loop.
Bring your lift ticket or season pass from any New Mexico ski resort and get 20% off Springs' entry or any lodging unit (one discount per person). Offer is valid 7 days a week, excluding holiday periods, and is good through April 30, 2012. Visit ojospa.com for details.
Ojo is only 37 miles south of Taos. Take Rt. 64 past the Gorge Bridge and left onto the newly paved Rim Road to US 285. It's the same drive time to Santa Fe, only better!
For more information visit our website or call 800.222.9162 or 505.583.2233.
For Ojo's mineral springs entry rates click here:
http://ojospa.com/rates.php?action=viewcontent&content_id=93
For Ojo's loding options click here:
http://ojospa.com/rates.php?action=viewcontent&content_id=93
For press inquiries, please contact Jennifer Hobson
JLH Media
505 603 8643
Jennifer(at)jlhmedai(dot)com
###