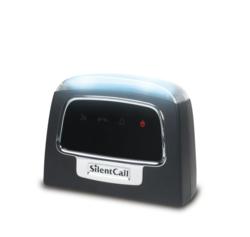 This Mini Receiver can be used with a Bed Shaker, has battery back-up and million code technology.
(PRWEB) January 12, 2012
Silent Call Communications new Mini Receiver alerting device has become a brilliant way for people to be aware. The Mini can be connected with four transmitters, to include a Sound Monitor, Telephone, Doorbell, Smoke Detector, Fire Alarm Transmitter, Door/Window Access, and Pressure Sensitive Door Mat without making a sound. The Mini comes with a strobe light that can be set to low, medium or high to alert a person. This receiver can also be used with a Bed Shaker, has battery back-up and million code technology. The Bed Shaker is set with predetermined output vibrations for each transmitter type. When the Mini Receiver detects a signal from a Silent Call Million Code transmitter with a matching coding system, it illuminates the corresponding indicator icon and activates its built in High Intensity L.E.D.'s and/or optional vibrator. The indication will continue for approximately 15 seconds after the transmitted signal ceases except in the case of fire. With the million code technology, it is extremely unlikely that the Mini Receiver would receive a signal from any other products than the transmitters it is connected to. In fact, the chances are one in a million.
The Mini along with a Bed Shaker has helped many people feel more confident and independent. There will be no more embarrassment of missing a phone call or someone at the door. A person can be more self reliant in knowing that they can become awake and alert if a smoke alarm or sound monitor is going off. Silent Call Communications provides a variety of life enhancing systems to be beneficial and helpful to others. The products are designed to provide a convenient way for anyone located in a noisy setting or has trouble hearing to still be alert without missing out on life.
Silent Call Communications is a Waterford, Michigan based company that provides tactile and alerting devices to organizations, companies and individuals alike. Since 1985, the Silent Call Communications Corporation has taken a simple philosophy of personal communications by means of electronic devices and developed an exciting product line. These products have revolutionized the means by which people who are seniors, hard of hearing, deaf or deaf/blind may lead more convenient, safe lives. For more information about Silent Call Communications and products, please visit http://www.silentcall.com or call (800) 572-5227 (Voice or TTY).
###