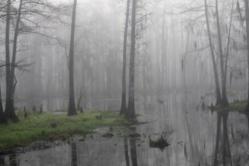 Baton Rouge, LA, (PRWEB) January 17, 2012
Welcome back to Louisiana's swampland!
Base Camp Management's client cast of Swamp People, Season Three has been announced: Troy Landry, Jacob Landry, Bruce Mitchell, Ron Methvin, R. J. and Jay Paul Molinere are once again ready for the challenges of the swamps of Louisiana, America's Last Frontier. Season Three will premiere on Thursday, February 9, 10PM ET/PT.
Season Three of SWAMP PEOPLE follows these intrepid hunters and family men and women as they head out in pursuit of these most powerful beasts during the 30-day alligator-hunting season, regulated by the state of Louisiana.
SWAMP PEOPLE explores and celebrates a unique culture far removed from the mainstream of contemporary America. This is a united community that fends for themselves and makes a living any way they can in an unpredictable environment. The families of SWAMP PEOPLE battle Father Time, Mother Nature and the challenges of life in and around the murky waters of the Atchafalaya Swamp. They are America's forgotten pioneers.
SWAMP PEOPLE SEASON 3 (Cast represented by Base Camp Management):

Troy Landry – there is no harder worker in the swamp. The all-around outdoorsman and the quintessential Cajun swamp man, speaking Cajun as only Troy can speak it, is back to prove he is still King of the Swamp. Troy brings back his long time helper looking to make this his best alligator-hunting season ever.
Jacob Landry – has worked along side is father, Troy, all his life. This year, Jacob captains his own boat. With the help of his younger brother, Chase, Jacob plans to give the other captains a run for their money this season.
Chase Landry – youngest son of Troy Landry, but far from the least experienced hunter. Chase is happiest deep in the swamp, hunting with his family. Always ready to leap into fun and adventure, Chase is on board to help his brother, Jacob, tag out.
Bruce Mitchell - Bruce hunts and processes wild gators, selling the meat to customers, making his living off his land. His goal is to waste nothing and remain self-sufficient at all times. Bruce and his dog, Tyler, hunt alligators together, but this year they have a new helper, determined to make a great season hunting.
Ron Methvin – whether hunting deer or outlaws, Ron, a war veteran, is an all around action guy. Alligators are only the latest adventure for this South Louisiana family man. Keeping traditions alive and values strong defines Ron. Ron, Bruce and Tyler unite to battle alligators and more.
R.J. Molinere Jr. - A champion arm wrestler and Native American member of the United Houma Nation, hunting with his son, is out to prove he is best hunter in the swamp.
Jay Paul Molinere – Sharpshooter Jay Paul is his own man, his father's best friend, always honoring his heritage and family traditions.
Season 2 of SWAMP PEOPLE set a record for the program, with 4.1 million Total Viewers.
Swamp People ranks as the #7 ad-supported cable non-fiction series in 2011 to-date among A25-54. Overall, Season 2 of Swamp People averaged 2.1 million Adults 25-54, 2.1 million Adults 18-49, 1.3 million Men 25-54 and 1.3 million Men 18-49. The sophomore season was up +24% among A25-54 and +31% among A18-49 vs. its freshman year. The season 2 finale captured record highs for the show, earning 2.8 million A18-49 and A25-54.
SWAMP PEOPLE is produced by Original Media for HISTORY. Executive Producers are Jay Peterson and Charlie Corwin and Brian Catalina is co-Executive Producer. Executive Producer for HISTORY is Mary Donahue.
###