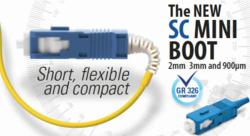 New SC Mini Boot: Short, Flexible and Compact
(PRWEB) January 13, 2012
The NEW SC MINI BOOT reduces overall connector length by 30% while maintaining superior cable support and bend radius as compared to traditional boot design. The short, flexible and compact design supports industry demanding TWAL standards.
Senko's Premium 1pc Type Connector was designed to meet the highest requirements in the market. The premium SC Connector is designed to meet and exceed the Verizon FOC TPR requirement, for the OSP application, or for anywhere customers need a high quality product. Premium SM and Premium Low Loss (LS) SM are available. Typical IL of 0.05 for LS SM Ferrule, and 0.08 for Premium UPC. Various option of boots are available.
SC Mini Boot Features

30% Shorter in boot length (2&3mm)
Reduction of overall length from 58mm
to 40mm (3mm, 2mm)
Ideal usage for G657B (R-7.5mm) Fiber
Meets Criteria of GR-326 TWAL (1310, 1490, 1550, 1625)
To find out more information on the SC Mini Boot visit our website or call 1-800-32-SENKO
SENKO Advanced Components, Inc. is a global leader in the design, manufacturing, sales, distribution and marketing of passive fiber optic components. Headquartered in Boston, US, SENKO Advanced Components is a subsidiary of the Japan-based SENKO Group.
For more information visit our Social Media Newsroom.
The SENKO Group, founded in 1946, is a family of companies devoted to serving clients over a range of industries. Our mission is to be the best global provider of innovative solutions in all areas of our expertise, including electronic / electrical, automotive / industrial, and the telecom / fiber optic industries.
###