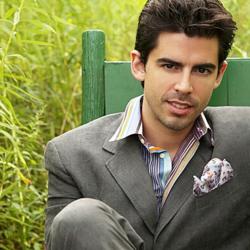 a "lean baby Sinatra with burning brown eyes and flashing teeth" (The New York Times)
Baltimore, Md. (PRWEB) January 14, 2012
As Valentine's Day approaches, BSO SuperPops is setting the stage for romance in a concert of beloved songbook standards led by Principal Pops Conductor Jack Everly and featuring singer/pianist Tony DeSare on Thursday, February 9 at 8 p.m. at the Music Center at Strathmore, Friday, February 10 at 8 p.m., Saturday, February 11 at 8 p.m. and Sunday, February 12 at 3 p.m. at the Joseph Meyerhoff Symphony Hall. A "lean baby Sinatra with burning brown eyes and flashing teeth" (The New York Times), the charming Tony DeSare will perform classics from the great American songbook, including "Fly Me to the Moon," "Night and Day," "Moon River," "One for My Baby," "That Old Black Magic" and more. While in town, DeSare will sing a Valentine's Day serenade to one lucky winner of the "Be My BSO Valentine" competition. Please see below for complete details about the program and the Be My BSO Valentine competition.
Tony DeSare's warm, distinctive sound and robust musicality have defined the singer/pianist/songwriter as a "Rising Star" (2009 Downbeat Critics Poll) among such modern day crooners Michael Bublé and Harry Connick, Jr. DeSare has been enthusiastically received by audiences around the world, and his music has been featured on productions ranging from The Tonight Show to the 20th Century Fox film The Tooth Fairy.
Jack Everly, conductor
Jack Everly is the Principal Pops Conductor of the Baltimore and Indianapolis Symphony Orchestras, Naples Philharmonic Orchestra and National Arts Centre Orchestra (Ottawa), and the Music Director of the National Memorial Day Concert and A Capitol Fourth on PBS.
Mr. Everly is the Music Director of Yuletide Celebration, now a 26-year tradition. These theatrical symphonic holiday concerts are presented annually in December in Indianapolis and are seen by more than 40,000 concert-goers.
Originally appointed by Mikhail Baryshnikov, Mr. Everly was conductor of the American Ballet Theatre for 14 years, where he served as Music Director. Mr. Everly has teamed with Marvin Hamlisch in Broadway shows including The Goodbye Girl, They're Playing Our Song, and A Chorus Line. He conducted Carol Channing hundreds of times in Hello, Dolly! in two separate Broadway productions.
Mr. Everly has conducted the songs for Disney's animated classic, The Hunchback of Notre Dame, and led the Czech Philharmonic on the recordings In the Presence and Sandi Patty's 2011 release, Broadway Stories. He also conducted the critically praised Everything's Coming Up Roses: The Complete Overtures of Broadway's Jule Styne.
In 1998, Jack Everly created the Symphonic Pops Consortium, serving as Music Director. The Consortium, based in Indianapolis, produces a new theatrical pops program each season. In the past 12 years, more than 225 performances of SPC programs have taken place across the U.S. and Canada.
Maestro Everly holds an Honorary Doctorate of Arts from Franklin College in his home state of Indiana.
Tony DeSare, vocals & piano
Singer, pianist and songwriter Tony DeSare was named a "Rising Star" male vocalist in the 2009 Downbeat Critics Poll. He has won critical and popular acclaim for his concert performances throughout the United States as well as in Australia, Japan and Hong Kong. In January 2010, he launched an international tour at the Algonquin Hotel's Oak Room in New York and in London, then continued on to cities such as Los Angeles, Boston, Washington DC, Seattle, St. Louis and Palm Beach. "Let's Just Stay In," one of his third CD's, Radio Show, original songs, is featured in the 20th Century Fox film The Tooth Fairy, starring Dwayne "The Rock" Johnson, Ashley Judd, Billy Crystal and Julie Andrews.
Want You, Tony's debut CD, debuted at #16 on the Billboard chart when it was released in May 2005. He performed selections from the CD on national broadcasts of the CBS Early Show, NBC
Weekend Today and Fox News Channel.
Tony composed and performed the title theme, "If I Had Drew," to My Date with Drew, an independent documentary feature film about a guy who has 30 days and $1100 to get a date with Drew Barrymore. It has been featured on The Tonight Show, The Today Show, Playboy Magazine, Entertainment Weekly and Premiere. The film was released in theatres nationwide in 2005.
Shortly after moving to New York City in 1999, Tony was cast as the star of the long-running Off-Broadway musical smash, Our Sinatra. Tony was also featured in New York TV personality Bill Boggs' Off-Broadway show, Talk Show Confidential.
COMPLETE PROGRAM DETAILS
BSO SuperPops: A BSO Valentine
Thursday, February 9, 2012 at 8 p.m.—Music Center at Strathmore
Friday, February 10, 2012 at 8 p.m.—Joseph Meyerhoff Symphony Hall (JMSH)
Saturday, February 11, 2012 at 8 p.m.—JMSH
Sunday, February 12, 2012 at 3 p.m.—JMSH
Jack Everly, conductor
Tony DeSare, vocals & piano
Tickets range from $28 to $88 and are available through the BSO Ticket Office, 410.783.8000 or BSOmusic.org.
COMPLETE COMPETITION DETAILS
Be My BSO Valentine
Looking for the perfect gift this Valentine's Day for your sweetheart? How about a Valentine's serenade from the gifted singer and pianist Tony DeSare? Dubbed a "lean baby Sinatra with burning brown eyes and flashing teeth" (The New York Times), Tony DeSare will perform a concert of romantic standards from the American songbook with the BSO on February 9 at the Music Center at Strathmore and on February 10-12 at the Joseph Meyerhoff Symphony Hall. One lucky winner will get a sneak peek of the charming crooner's act when he visits the winner's paramour at a location of the winner's choosing on either Thursday, February 9 or Friday, February 10. To enter, visit BSOmusic.org/Valentine and fill-out the online form, which asks questions such as, "What is special about your Valentine?", "Why would your Valentine enjoy a surprise visit from Tony DeSare?" and "Where do you propose that the Valentine's serenade surprise take place?" The winner will be selected based on the entrant's ability to convince the panel that "each day is Valentine's Day," as the old song goes, for the winner and his or her sweetheart. Deadline for submission is Wednesday, February 1, 2012.
###