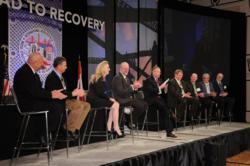 [C]ustomers of all stripes and sizes from across North America will be in attendance. If you want to work with them—can you afford not to be at this conference?
Washington (PRWEB) January 13, 2012
An already record-breaking number of registrants—more than 700—for the Iron Workers/IMPACT North American Labor Management Conference signals a huge turnaround for the construction industry, despite a still-sagging economy. Interest in the conference is a testament to the massive value available to those attending and sheds hopeful light on the direction the construction industry will take in the coming year.
"The Iron Workers and IMPACT are committed to providing a top-quality conference packed with networking and educational opportunities no matter how difficult economics may make it to conduct such a comprehensive event," said Eric Waterman, CEO of IMPACT.
New this year is a panel featuring some of the biggest real estate developers in the world entitled, "Real Estate Development – When is the Commercial Market Coming Back?" The staple Business Manager and Contractor panels are also on the agenda, giving union leaders and contractors alike a sounding board for issues and an idea-exchange forum to discuss ways to improve working relationships. In addition, this year's owner panel, "The Customer is Always Right," includes representatives from companies like BP, Mittal Steel, Kaiser Permanente and Pfizer, to name a few.
The Iron Workers and IMPACT bring together business owners, contractors and owners from a variety of organizations across North America. Conference attendees are provided a rich forum where they can discuss ideas for improving communication and growing market share for the union ironworking industry. In addition, it gives owners, contractors and union leaders an invaluable opportunity to network and foster professional relationships.
"Quite simply, customers of all stripes and sizes from across North America will be in attendance. If you want to work with them—can you afford not to be at this conference?" Waterman said.
About the Iron Workers International: The International Association of Bridge, Structural, Ornamental and Reinforcing Iron Workers (IABSO&RIW) was founded in 1896 in Pittsburgh, Penn. They now represent more than 125,000 Ironworkers throughout the United States and Canada. The IABSO&RIW's mission is to improve the working conditions of its members while promoting constructive relationships with their employers to increase work opportunities.
About IMPACT: The Ironworker Management Progressive Action Cooperative Trust (http://www.impact-net.org) was formed in 2003 under Section 302(c) 9 of the Labor-Management Relations (Taft-Hartley) Act. IMPACT is a non-profit, tax-exempt labor-management trust under Section 501(c) of the Internal Revenue Code. The primary mission of IMPACT is to expand job opportunities for union ironworkers and their signatory contractors through progressive and innovative labor-management programs, training and safety. IMPACT is governed by a 26-member Board of Trustees. Each of IMPACT's 10 regions is represented by one labor trustee and one management trustee.
###