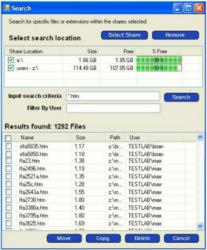 Backup windows improve after removing files belonging to past employees or inappropriate data, before File Sense it would be difficult to locate and migrate targeted data to an archive from a single tool.
Round Rock, TX (PRWEB) January 14, 2012
File Sense can quickly locate files belonging to users no longer employed or search for a file type and then enter a users name to dynamically reorder the search with a secondary filter in real time. Consider MP3 files, search a share for a breakdown with user names included, enter a user name in the secondary filter box to sort on that user against the existing file list dynamically. Then select all or a partial list to Migrate, Copy or Delete.
The new Migration and Copy features use Check Sum Verify against the original data set to verify the files have been fully migrated or all have been copied, it's that easy just locate, specify the user and select Migrate to choose the destination.
A Full Scan can be scheduled automatically at a future time which provides a professional report using FSP Reporter to build a Word, HTML or Printed report. See the overview in the video for more information.
# # #