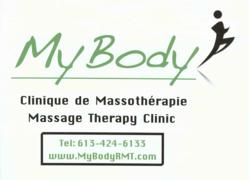 PreferredLocalBusiness.tv happily welcomes their newest listing for Orleans Massage Therapist.
Orleans, Ontario, Canada (PRWEB) January 12, 2012
Orleans Massage Therapist services have never been as easily accessible as they are today, thanks to MyBody Massage Therapy Clinic joining PreferredLocalBusiness.tv, a local preferred business directory that will make Orleans Massage Therapist services immediately available to local internet searchers.
About MyBody:
MyBody Massage Therapy Clinic (MyBody) is pleased to announce an expansion of their services to better serve their clients and increase the way that they contribute to their total health care. MyBody is committed to provide its patients with the latest techniques in Massage Therapy in a caring and professional environment.
MyBody has been known for their high quality of care, specializing in using new and innovating deep tissue techniques. MyBody's therapists Mélanie Cyr and Mélanie Gareau are both Registered Massage Therapists that specialize in advanced Deep Tissue Techniques. These highly qualified therapists can help treat issues such as back pain, headaches, tendonitis, overuse syndromes, whiplash, and all kinds of other ailments. They also offer pregnancy massages. The clinic has also recently added Renée St-Jean, a laser and skin care specialist who comes on-site once a week to offer Laser hair removal treatments.
MyBody is conveniently located at 2788 St-Joseph Boulevard in Orleans, across from the St Joseph Church, making it very accessible for anyone living in Gloucester, Orleans and Rockland. The clinic has convenient evening and Saturday hours, and offers direct billing for RCMP members, Veterans and Workers Safety Insurance Board claimants. The clinic can be contacted by telephone at 613-424-6133.
"Our ultimate goal is to help our patients regain their vitality by delivering effective treatments tailored to their specific needs," said Mélanie Cyr, Registered Massage Therapist and owner of MyBody Massage Therapy Clinic. "Whether you are simply looking to relieve stress and muscle tension or seeking treatment for a specific injury, MyBody can provide the help you need. En plus, il nous fera un grand plaisir de vous servir en français; les employés de la clinique MyBody sont bilingues."
MyBody provides outstanding care delivered by a dedicated team meaning their clients receive the personalized treatment and attention required for a stellar Massage Therapy experience. PreferredLocalBusiness.tv happily welcomes their newest listing for Orleans Massage Therapist.
###