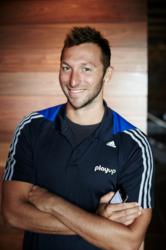 "With celebrity access to fans at this personal level this app will change how fans and athletes interact around live sports."
Melbourne, Australia (PRWEB) January 14, 2012
Australian Olympic swimming icon, Ian Thorpe, has joined former Australian cricket captain Steve Waugh and Indian cricketer Rohit Sharma as an official brand ambassador for a new sports social network, which has recently launched worldwide.
PlayUp is the first mobile social network to enable sport fans to follow their choice of 30,000 live games around the world for sports such as Premier League, Cricket, NFL, NBA, US College sports and a large variety of Football leagues. All this while being able to discuss the action with other fans for free on their mobile devices.
Already PlayUp has become a global success story ranking as a top free sports app in the highly competitive China (#1), Australia (#2), India (#3), US (#4), Japan (#5), and UK (#5) sports markets.
Speaking from Melbourne where he is completing for the first time in six years Thorpe said he was excited about his role as an ambassador with PlayUp and would become an active user of the app where he can provide his thoughts on his preparation direct to fans.
"I am passionate about the role of technology in sport and PlayUp offers the chance for me to connect with fans during my training as well as having the opportunity to follow my favourite sports - such as Premier League Football and tennis – while in transit, " Thorpe said.
It is this ability for PlayUp to enhance his own viewing experience that has Thorpe excited. A recent study by Yahoo Mobile and Razorfish found that 94% of the 2,000 surveyed engaged in some form of mobile communication while watching TV, such as exchanging email, sending IMs, texting, talking or social networking.
PlayUp Founder and CEO George Tomeski said: "What's unique for Ian Thorpe is that PlayUp allows swimming fans the chance to have direct interaction with him as he prepares for the 2012 Olympics.
"He'll be able to create a dedicated discussion area around a live sports event of his choice allowing fans to message and interact with him. We hope to provide unprecedented access for his fans using this real-time messaging feature.
"With celebrity access at this personal level we believe this app will change how fans and athletes interact around live sports.
"As an example Steve Waugh recently provided commentary and spoke direct to fans on Day 1 of the first cricket test between Australia and India using PlayUp. This generated significant interest from the countries competing as well as the US and UK and is an example of how the app can connect fans worldwide.
"Sports-related SMS and MMS messaging already generates billions of real time messages – PlayUp simply provides a platform and an context with live sport data as the conversation starter.
"Our development pipeline for the product is truly exciting with more multimedia and social features on the way, it's an exciting time to be a sports fan."
The 12-month agreement with PlayUp includes promotional appearances by Thorpe in a number of countries including Japan, China, Brazil and Australia, along with some 'money can't buy experiences' for fans.
In 2010 PlayUp games were distributed throughout more than 20 countries across the UK and Europe, India and the sub-continent, Asia and Africa. PlayUp will grow to 50,000 live games on the platform by June 2012.
Australians Luke Bunbury and George Tomeski founded PlayUp in 2007. PlayUp is the first-ever mobile based, global sports network that facilitates real time, mass-market social gaming and interactive experiences alongside live sports.
Sports fans can download PlayUp now on iPhone at http://itunes.playup.com/sports or use the web version at http://www.playup.com
###