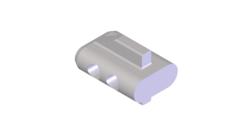 St. Petersburg, Florida (PRWEB) January 17, 2012
VG Innovations, LLC introduced the first dual geometric facet implant to the spine market in 2008. The VerteLoc™ implant is unique to the spine market because of the innovative design rationale and engineering. The body of the implant is rectangular in shape, which limits motion in flexion/extension. Whereas the dual vertical stabilizers rest between the facet joint surfaces, and serve to limit motion in both torsion and lateral bending. Our 'vertebral lock' allows the joint to heal through the natural process of fusion.
Today, VG Innovations is releasing its latest advancement in facet fusion technology, the VerteLoc™ v2.5! The new VerteLoc™ v2.5 implant incorporates a series of holes for infusion of the allograft implant interface. VGI's innovative design allows the surgeon the ability to insert any type of biological product into the dual graft chambers for direct host-bone surface contact, to enhance fusion. Direct supplementation of biological products to the implant surface should enhance the implant fusion. VerteLoc™ v2.5 is available in single sterile packaging and two implant sizes (Standard and Wide) for increased intra-operative flexibility. Unique Minimally Invasive DISMISS instruments allow the surgeon to intra-operatively change implant sizes during the procedure to accommodate various facet anatomies. Secondly, the Directional Minimally Invasive instruments also allow the surgeon to place the channels with the biologics directly to the site of facet surfaces that have been prepared by drilling into the joint.
The VerteLoc™ Spine Stabilization System was designed specifically to address low back pain caused by facet osteoarthritis and spinal stenosis. The VerteLoc™ allograft implant was the first product developed by VG Innovations to overcome the limitations of currently available implants for spinal posterior element stabilization. The VerteLoc™ implant design allows for earlier intervention in the continuum of spine care. This procedure should prolong or prevent more invasive spine procedures in indicated patients, which would provide significant quality of life benefits versus traditional methods of spinal fusion. Today, patients are focused on surgical options that will afford a better quality of life, allowing them to return to their normal activities sooner.
Company Profile: VG Innovations, LLC, a privately held company was formed in late 2007. The company is in the business of developing and commercializing proprietary, implantable devices with a specific focus on minimally invasive surgical products that could provide better surgical solutions over present technology. Superior designed products to treat specific spinal disease indications that affect millions of people. More information on the company and its products can be found at: http://www.vginnovations.com.
###