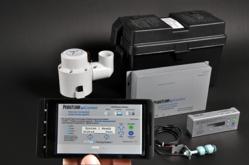 Our new products give
homeowners Peace Of Mind that their basement will never flood.
Chicago, IL (PRWEB) January 16, 2012
PeakFow Pumps a Chicago area company has invented never before available flood prevention equipment that stops basement flooding like nothing else can. The pioneering, patent pending sump pump systems use today's internet technology to test and monitor equipment, communicate alarm conditions via email and text, and amazingly, allow Remote Access and Control of the system. But the equipment itself is not just a monitoring or alarm system, it is a fully redundant, high output, AC/DC pump system installed right alongside an existing primary pump. After a 10 month pilot/beta program, the systems are now being made available to the general public.
PeakFlow Pumps is the manufacturer of the new technology-infused flood prevention equipment, called "iControl". Company President Jeff Sloss says, "Our new products give homeowners Peace Of Mind that their basement will never flood. If you're at work or on vacation and worried about a thunderstorm, for example, you can view status, test, silence, and even edit the equipment that is back home anytime, from anywhere. And the email and text alarm features ensure that equipment concerns are communicated immediately, giving the homeowner, or their contractor, time to respond, instead of being discovered weeks or months later as the cause of a flood." This is crucial because one of the realities of pump equipment is that homeowners very rarely check and test equipment for proper operation. If equipment needs attention on March 1st, is it better to know this when the storms roll in weeks or months later... or on March 1st?
The company says the groundbreaking equipment has commercial applications also. "We have installations in school buildings, in park district vaults, libraries, and business parks. All these customers are thrilled and relieved to have a solution that provides backup protection and 24/7 eyes on very important equipment." It's like having a technician living in your basement always watching and taking your calls. Insurance companies looking to reduce flooding claims and increase profits are beginning to see the advantage of the self-testing, monitored, and online interface of PeakFlow Pumps' iControl.
Proudly made in the USA!
PeakFlow Pumps systems are American Made (in Lake Zurich, Illinois) and boast an industry leading 5 year warranty, but the price is not much more than what people have been paying for years for far less capable systems. Once the equipment is purchased and installed, owners or their contractors can take advantage of all this technology for a flat $29 per year (yes, per year... that's NOT a misprint). And customers that prefer to "outsource the stress" can pay PeakFlow Pumps more for professional monitoring packages.
Special situations are also no problem for the iControl. With its fully configurable settings, the iControl can handle unusual sump arrangements, high capacity needs, and much more.
###