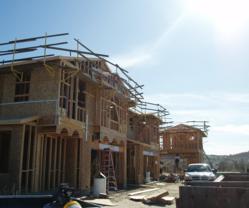 Carlsbad, Calif. (PRWEB) January 13, 2012
Construction has begun at Brookfield Homes' newest community, Sago at The Foothills in Carlsbad. The builder will debut Sago's three model homes in March 2012.
"Currently, the first and second floors are raised and roof sheeting has started," said Lora Heramb, vice president of sales and marketing for Brookfield Homes. "Upon completion, these model homes will reflect many innovative and creative interior design characteristics with unique use of color, design and space".
Sago will offer two-story homes ranging from approximately 1,750 to 2,050 square feet with three to four bedrooms and 2.5 baths. Priced from the mid $400,000's, Sago will offer affordable yet amenity-rich housing to those wanting to live in Carlsbad without the high price tag.
Located three miles from the coast at The Foothills in Carlsbad, Sago has four floor plans to choose from, all of which include courtyards for outdoor living space. All Sago homeowners will have access to The Foothills' resort-like Swim Club, equipped with a pool, paddle tennis courts, fireplace, barbecue and more.
Brookfield Homes, who was just voted #1 New Home Builder in San Diego, has had great success at The Foothills, debuting its eco-savvy neighborhood Rockrose in 2010. Rockrose was recently voted #1 New Home Community in San Diego, and has received accolades from several parties including the National Association of Homebuilders (NAHB). With the debut of Sago, Brookfield is anticipating continued success at The Foothills.
For more information about Sago or Rockrose at The Foothills, buyers are encouraged to visit the Rockrose sales office just across the street from Sago at 3538 Glen Ave. in Carlsbad. To join the Sago interest list, visit http://www.brookfieldsd.com.
About Brookfield Homes
Brookfield Homes currently builds new homes in San Diego in the master-planned communities of The Foothills in Carlsbad, Windingwalk in Chula Vista, Stonebridge Estates east of Scripps Ranch in San Diego, and Old Creek Ranch new homes in San Marcos. The company also has significant land holdings in Riverside County. For more information about Brookfield communities, visit http://www.brookfieldsd.com.
Brookfield Homes San Diego/Riverside is a homebuilding member of Brookfield Residential Properties, Inc. – a North American land developer and homebuilder, active in 10 principal markets. Brookfield Residential Properties Inc. entitles and develops land and builds homes for our own communities, as well as sells lots to third-party builders. Brookfield Residential Properties Inc. is co-listed on the New York and Toronto Stock Exchanges under the symbol BRP. For more information, please visit our website at http://www.brookfieldrp.com.
# # #