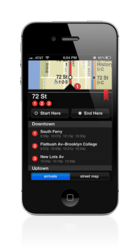 We believe people should not have to think about how they get somewhere.
San Francisco, CA (PRWEB) January 25, 2012
Embark, a leading mobile mass transit app, today announced it has become the fastest growing app for U.S. transit riders, and has eclipsed the 20-million trips milestone. The company is now adding more than 2,000 users per day and routing nearly 2 million trips per month across 12 transit systems, including New York, Chicago, Philadelphia, Washington D.C., San Francisco, London and now, Boston. Formerly known as Pandav, the company also announced the debut of its Embark Boston transit app, new product features, and its name change to Embark. Unlike Google Transit, Embark works both above and underground and automatically alerts riders about any delays to provide the best and fastest routes to their destinations.
Fastest Growth, Profitable
Embark's user and revenue are growing fast, and the company is already profitable. With more than 2,000 users signing up per day, Embark is now the fastest growing mobile mass transit app and is poised to service every major metropolitan area in the U.S. Over the past six months (July – December, 2011), the company added nearly 500,000 new users and its ad-driven revenue has grown nearly 250 percent. Since Embark knows where its users are going and reaches them during the most monetizable part of their day (during their work commute), the company's service is very attractive to hyper-local advertisers.
Why Embark?
Mass transit riders use Embark because it's the easiest, most accurate, and fastest way to help them get around. Available on phone 3GS, iPhone 4, iPhone 4S and Android mobile devices, the key features and benefits of Embark are:
1. Tailored Trips – Embark delivers the most detailed step-by-step directions tailored to specific regions, giving riders the best and fastest route to their destination.
2. Anywhere, Anytime – Embark works above and underground so riders can quickly plan trips anywhere, anytime.
3. Interactive Maps – Embark users simply tap a map or type a station, landmark or address location to instantly receive detailed, accurate trip routes.
Today Embark has also added two new features to its innovative app:
4. Shareable Trips – Users can share their trips via email, text message, or Twitter to coordinate plans with friends and family more easily.
5. Push advisories – Embark automatically alerts riders about any delays along their trips so they can plan accordingly.
"We believe people shouldn't have to think about how they get somewhere," said Embark CEO David Hodge. "Our vision is to make it easier for people to get around using any form of transport. In the near-term we're focusing exclusively on mass transit riders. But in the future, we plan to expand our service to other modes of transport, including cars, taxis, limos, car sharing, biking, and walking."
About Embark
Embark (formerly Pandav) is the easiest way to get step-by-step directions for mass transit on mobile devices. Available on iPhone 3GS, iPhone 4, iPhone 4S and Android mobile devices, Embark provides the most accurate, detailed and fastest trip routes for mass transit riders. Embark works both above and underground and automatically alerts riders about any delays so riders can get to their destinations as quickly as possible. Founded in 2011 and headquartered in San Francisco, CA, Embark is funded by Y Combinator and Start Fund (led by Yuri Milner and Ron Conway) and John Hering, CEO of Lookout, a smartphone security company. For more information, visit http://www.letsembark.com
###