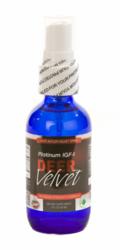 "Athletes, young people and older people can benefit from Deer Velvet. Essentially, Bambi may help revitalize your life and increase muscle growth, strength and performance."
(PRWEB) January 13, 2012
Deer Velvet, an online supplement store, announces the introduction of New Zealand red deer velvet supplements. Deer velvet, the outer growth on antlers, harvested for IGF-1, has been known to benefit muscle building and recovery, treat arthritis and immune stimulation among other benefits. The supplement has been used in China for over 2,000 years to treat illness and other ailments.
"Some of nature's most traditional treatments are becoming available and relevant in our lives today," said T. Hall, product research manager, of Deer Velvet. "Athletes, young people and older people can benefit from Deer Velvet. Essentially, Bambi may help revitalize your life and increase muscle growth, strength and performance."
Deer Velvet supplies all natural deer velvet from New Zealand. The antler velvet is grown, collected and cold processed in New Zealand to ensure quality. The collection of antler velvet in New Zealand is a painless process and causes no harm to the animals. The velvet is processed into various medicinal forms including creams, extracts, capsules and sprays.
" We recommend trying Deer Velvet for work out recovery, arthritis, anti-aging, muscle building and increased libido, " said Hall. "Our product is the highest quality and comes from the best processing centers in New Zealand."
The possibility of multiple uses for deer velvet comes from the benefits of IGF-1 (Insulin-like Growth Factor). IGF-1 is a protein hormone that stimulates and regulates cell growth and multiplication in bones and cartilage. It also stimulates production and circulation of blood, potentially increasing the number of red blood cells.
Deer Velvet carries a variety of products on its website deervelvet.net. The deer velvet supplements are available in capsules, spray and cream.
Sources for Deer Antler Velvet information:
http://www.drugs.com/npc/deer-velvet.html
http://www.bodybuilding.com/fun/southfacts_deerantlervelvet.htm
About Deer Velvet
Deervelvet.Net only selects the finest ingredients in product manufacturing. We select untainted ingredients, fresh humane harvested deer antler velvet. Our New Zealand Deer Antler Velvet is sustainably sourced from the pure, untouched, pristine land and sea of New Zealand.
###