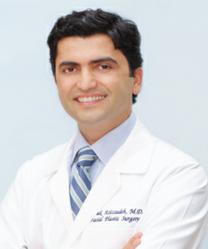 Beverly Hills, California (PRWEB) January 13, 2012
Dr. Babak Azizzadeh, MD, FACS, leading plastic surgeon in Beverly Hills, is the newest member of the elite Haute Living Haute MD Network. An exclusive invitation-only group, the doctors representing the network are at the pinnacle of their industries. Dr. Azizzadeh was handpicked for his exceptional skill in facial plastic and reconstructive surgery. As Chairman and Director of the Center for Advanced Facial Plastic Surgery, Dr. Azizzadeh's client list includes the celebrities, executives and LA locals alike. He is double board-certified by the American Board of Facial Plastic & Reconstructive Surgery and the American Board of Otolaryngology-Head & Neck Surgery.
Haute Living Magazine will feature Dr. Azizzadeh as an exclusive Haute MD. Read more about him: http://www.hautemd.com/doctors/dr-babak-azizzadeh-m-d-f-a-c-s/
About Haute MD Network
The exclusive Haute Living Haute MD Network is made up of the most prestigious doctors across the US. Doctors are revered and invited for their skill in one of nine specialties: Breast, Face, Smile, Nose, Skin, Body, Bones, Hair, and Lasik. The Haute MD blog is frequently updated with groundbreaking news, trends and events in the industry, and is the ultimate source for finding the best doctor in your area. Visit http://www.hautemd.com today.
About Dr. Babak Azizzadeh, MD, FACS
Dr. Azizzadeh graduated from and completed his six-year residency at UCLA School of Medicine and UCLA Center for Health Sciences, respectively. Later, he attended Harvard Medical School, completing a sub-specialized fellowship in Facial Plastic & Reconstructive Surgery—a program that was only offered to one surgeon.
His prestigious education and many years of experience in cosmetic and reconstructive plastic surgery have earned him his status as one of the most coveted surgeons in the industry. Dr. Azizzadeh's patients, ranging from locals to international visitors, appreciate his dedication to their health, safety and beauty.
For over 20 years, Dr. Azizzadeh has been involved in clinical research, actively working to make advances in the field of plastic surgery. He has published five textbooks and has been at the receiving end of many awards and honors. Esteemed media outlets including The Oprah Winfrey Show, the New York Times and People Magazine have all featured Dr. Azizzadeh for his skill in facial cosmetic and reconstructive surgery.
# # #