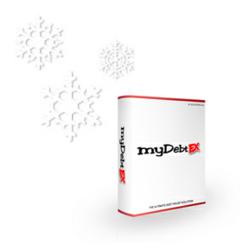 "At JLL Solutions, we take helping people to get out of debt very seriously", said Luke Veitch, Senior Vice President of JLL Solutions LLC. "The myDebtEx™ Blog will help us stay in constant contact with people in need of debt relief."
Freeport, IL (PRWEB) January 13, 2012
myDebtEx™ is a complete debt relief software program that helps people save thousands of dollars when settling their credit card debt. myDebtEx™ strategically helps users reduce payments through a plan unique to their debt situation, while reducing interest expense. Another benefit of owning myDebtEx™ is the elimination of credit counselors and debt settlement companies.
Currently, the blog only includes press releases. Soon, however, the myDebtEx™ Blog will also include the following:
News about the debt industry
Questions and answers from subscribers and users
Real life experiences from those who have been in debt
Those interested in staying up-to-date with news from JLL Solutions can simply archive old press releases and articles at http://www.mydebtex.wordpress.com. This is also the place where users subscribe to the myDebtEx™ Blog.
"At JLL Solutions, we take helping people to get out of debt very seriously", said Luke Veitch, Senior Vice President of JLL Solutions LLC. "The myDebtEx™ Blog will help us stay in constant contact with people in need of debt relief." "Having a Blog on the myDebtEx™ website centralizes everything and gives us the opportunity to give people real-time feedback, while answering any questions they may have concerning debt relief or, myDebtEx™."
Take advantage of myDebtEx™ for only $99.99 which includes Free Shipping until January 2012.
Availability
The latest version of myDebtEx ™ is available at the JLL Solutions internet website: http://www.myDebtEx.com
About JLL Solutions
JLL Solutions is an Illinois based company that delivers state-of-the-art technology solutions to the financial, real estate and health care industries. As a global provider of software development and software products, JLL Solutions provides industry professionals and consumers with software applications that are user friendly and that bring value to their unique situation.
More Information can be found at http://www.jllsolutions.com
815-401-9704 ext. 102
luke(dot)veitch(at)jllsolutions(dot)com
###