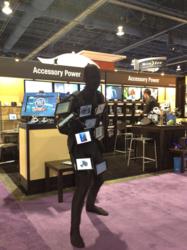 Innovation and creativity have always been the driving force at Accessory Power.
Las Vegas, NV (PRWEB) January 13, 2012
Sometimes it takes a hero to fight for the attention of the crowd. At the bustling event known as The Consumer Electronics Show (CES), it takes imagination and courage to break through the clutter and demand scrutiny by the passing throngs. Sometimes, a company needs someone like "Tablet Man."
CES features over 3,100 companies showcasing electronic products and accessories, once again breaking records for attendance. Accessory Power™, an electronics accessories manufacturer based out of Westlake Village, Calif. with offices in Hong Kong and China, is among that number.
"Innovation and creativity have always been the driving force at Accessory Power. We knew there would be a flood of companies all vying for the attention of the press and other distributors," said Alex Rocha, Senior Product Developer at Accessory Power.
With that in mind, this year, Accessory Power introduced Tablet Man, or TabMan for short, to CES. With a dozen tablets attached to his body, Tablet Man promotes the Brands of Accessory Power, as well as displaying videos featuring a large variety of products manufactured by Accessory Power.
"His sole purpose is to display all of our wonderful products all over his body and direct people to our booth and he's doing a wonderful job at that," said Rocha, speaking for Tablet Man. Ultimately, the purpose of having a man dress up in costume draped with 12 tablets all flashing imagery from Accessory Power is to reinforce the company's dedication to accessory products for all of the latest gadgets, such as fitted tablet covers, FM transmitters, and chargers.
CES Participants can visit the Accessory Power booth at CES in the South Hall, booth # 31362 through Friday, January 13, 2012.
Accessory Power manufactures a variety of electronic accessories compatible with the latest electronics such as tablets, smartphones, MP3 players, and computers, including chargers, rechargeable batteries, carrying bags, protective cases, speaker systems, FM transmitters, cables and more.
Visit http://youtu.be/I4yzfo98juM for an exclusive interview with Tablet Man live from CES. For more information on Accessory Power and its wide variety of consumer electronic accessories, visit http://www.accessorypower.com.
###