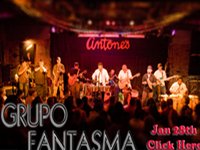 After winning "Best Latin Rock, Alternative or Urban Album" for album, "El Existential," guitarist Adrian Quesada said, "Considering the DIY and homegrown effort we've built over the last decade it feels unbelievable to finally go home as winner
Santa Fe, New Mexico (PRWEB) January 13, 2012
SantaFe.com and City of Santa Fe have announced the headlining concert event of the Santa Fe Winter Fiesta. Grupo Fantasma brings its Grammy Award-winning Latin-meets-funk sound to Santa Fe, Saturday, Jan. 28 at the Santa Fe Farmers Market Pavilion.
Hailing from Austin, Texas, Grupo Fantasma has earned a global reputation for its high energy live shows and features a 10-piece orchestra, bringing together many genres to create an amazing blend of afro-Latin music. Concert tickets to the performance are $30, or $20 with a 2012 Winter Fiesta Adventure Pass.
After winning "Best Latin Rock, Alternative or Urban Album" for its latest album, "El Existential," Grupo Fantasma guitarist Adrian Quesada said, "Considering the DIY and homegrown effort we've built over the last decade, including the immense undertaking and process of producing this album all by ourselves, it feels unbelievable to finally go home as winners. And with so many genres combined into this one category with such fierce competition, it's even more of an honor and statement of our hard work over the last ten years."
Now in its second year, the Santa Fe Winter Fiesta is a 10-day event of music, food, film and community that begins Jan. 27 and runs through Feb. 5. The events is put on by SantaFe.com and the City of Santa Fe, which aside from music, features a craft brew festival, a comedy show and a film screening. For more information about the event, visit http://www.santafe.com/winterfiesta.
Co-Sponsors for the 2012 Winter Fiesta are the Coca-Cola Bottling Company, Heineken, The Agave Lounge at the Eldorado Hotel, and Chalmers Capitol Ford Lincoln Mercury. In part the event is being brought by the Museum of New Mexico Foundation and by Sierra Santa Fe Buick GMC. Santa Fe businesses participating in the 2012 event are Santa Fe Mountain Sports, The Five and Dime General Store and the La Fonda De Santa Fe.
About SantaFe.com
SantaFe.com provides Santa Fe and visitors to Santa Fe alike the most current interactive platform for events, music, arts, business, dining, and lifestyle. SantaFe.com is a division of Hutton Broadcasting. Hutton Broadcasting is located at 2502 C. Camino Entrada, Santa Fe, NM 87507
Contact Information:
Scott Hutton
SantaFe.com / Hutton Broadcasting
http://www.santafe.com
(505) 471-1067 (Media inquiries only, please)
###