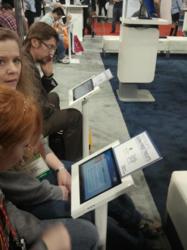 Businesses are watching closely as Androids have officially invaded the tablet kiosk market!
Sandy, Utah (PRWEB) January 13, 2012
ArmorActive Inc., a tablet kiosk hardware and software development company from Utah, is the first company in the market to design and manufacture sleek kiosk enclosures for the Galaxy Tab 10.1 and Kindle Fire.
ArmorActive 's Galaxy Tab kiosk enclosure was first revealed at the CES 2012 Expo in Las Vegas. Later this month, they will also release their new Kindle Fire kiosk enclosure at the National Association of Music Merchants 2012 Expo (NAMM) in Anaheim, CA.
The design for the Galaxy Tab kiosk enclosure came to fruition after Czarnowski, a specialized expo event booth design agency, approached ArmorActive about providing the Galaxy Tab enclosure for the American Express booth at CES. ArmorActive quickly went to the drawing board to design and produce a solid product, equaling the quality of their previous iPad kiosk applications and enclosures.
Ever since Apple's release of the iPad, a wave of iPad-run kiosk applications and hardware have been dominating the kiosk industry, shaking up the old-school kiosk manufacturing market. But with the momentum of popular tablets such as the Galaxy Tab and Kindle Fire, the tablet kiosk market is now providing even more options in addition to the iPad kiosk. Many businesses are now moving toward these devices largely because of their lower price point and adaptable Android software platform.
One of the biggest improvements these tablets bring to the kiosk market is the ability to root the device, enabling more controls with mobile device management (MDM) software. MDM enables operators to virtually reboot, power-down, change displays and entirely control a whole fleet of tablets from one location. These MDM tools make it possible for large corporations to deploy thousands of tablets, and are quickly becoming the next step in mobile business innovation.
With a broad selection of advanced tablets currently coming to market, ArmorActive's newest software solutions and tablet enclosures are helping to bridge the tablet kiosk gap that many CIOs have been waiting for.
Android kiosks come in peace…. the business world welcomes you.
ArmorActive is the parent company to iPad Enclosures. For more information please visit ArmorActive.com
# # #