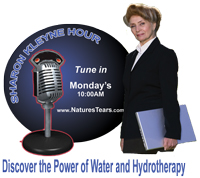 Grants Pass, OR (PRWEB) January 13, 2012
Sharon Kleyne, host of the Sharon Kleyne Hour Power of Water syndicated radio talk show, recently interviewed Fred Kirschemnann, PhD, of Iowa State University and President of Kirschenmann Family Farms in South Dakota; on organic farming, soil health, pollution, humidity, water conservation and climate change. The interview may be heard on-demand on World Talk Radio, Voice America, Green Talk Network, Apple iTunes and Twitter.
Dr. Kirschenmann has appeared on the Sharon Kleyne Hour Power of Water previously, discussing his breakthrough research into dry land farming. He states that he can grow crops with just a few inches of annual rainfall as productively as nearby irrigated farms. The key is the soil's organic content, which retains moisture better and also increases nutrient content.
Sharon Kleyne inquired about the latest findings in agriculture, water availability and food production. Dr. Kirschenmann noted that energy costs in food production are starting to significantly increase. The expenses of obtaining irrigation water, running tractors, producing petroleum based fertilizers and hauling produce are all rising.
According to Dr. Kirschenmann, the largest natural underground aquifer in North America, the Ogallala Aquifer covering most of the upper and central Great Plains, has been drawn down by 50% since 1960. He added that the situation in China, which must feed four times as many people on the same sized land base, is far worse.
Added factors affecting production, says Dr. Kirschenmann, are the effects of pollution of soil depletion. Again, this is more evident in China than the United States. Maintaining the biological health of soil is critical to productivity and nutritional content. With one-percent organic content in the soil, the wheat yield is 33 pounds per cubic yard of soil. With five-percent organic content, the yield is 195 pounds.
Sharon Kleyne inquired about the effects of humidity on soils, and especially the effects of humidity tainted with air pollution. Dr. Kirschenmann explained that the effect of climate change, humidity and polluted air on soils are not well understood, but he did have some comments on the subject:
Soils, according to Dr. Kirschenmann, are a living organism teeming with microscopic life. He says there are more microorganisms in the soil than there are above ground. While the impact of pollution on soil microorganisms is somewhat reduced by the filtering effect of the soil granules, excessive pollution can displace the soil's free oxygen level, which could impact soil health and productivity. Polluted water runoff into the soil usually has a negative effect (depending on the specific content of the runoff).
Dr. Kirschenmann noted that over-production of agricultural crops tends to decrease the soil's ability to retain moisture, resulting in increased moisture evaporation of from the soil into the air. This can increases the humidity in the surrounding air (which could affect annual rainfall).
Sharon asked about locally grown foods versus imported foods. According to Dr. Kirschenmann, the question is not how far food travels but how it travels. A climate controlled 18 wheeler keeps food far better, and is more economical and environmentally friendly, than a farmer's open, gas guzzling pickup that takes produce to a local Saturday market. However it is transported, Dr. Kirschenmann believes that people should be aware of what they eat, how it was grown and how it was transported. He calls this "being a good food citizen."
Sharon Kleyne Hour Power of Water is sponsored by Bio-Logic Aqua Research, whose Nature's Tears® EyeMist®, a hand-held personal all-natural water humidifying device. Nature's Tears® EyeMist® is available at http://www.BioLogicAqua.com, Amazon.com, drugstore.com and selected drugstores nationwide.
Listen to the Sharon Kleyne Hour Power of Water Mondays, 10 a.m., PST/PDT. The syndicated radio talk show is heard on Voice America/World Talk Radio, Green Talk Network and Apple iTunes. Go to http://www.SharonKleyneHour.com for written summaries and on-demand replays. Also visit http://www.naturestears.com, http://whatistheeye.wordpress.com, "Nature's Tears EyeMist" on Facebook and "Bio-Logic Aqua" on Twitter.
© 2011 Bio-Logic Aqua Research
###