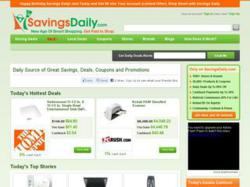 Now Zappos.com shoppers can save even more money with deals from SavingsDaily.com
(PRWEB) January 13, 2012
Zappos.com is the leading source of shoes and accessories on the internet. With free shipping on all orders, discounts on the hottest shoes and great customer service it is no wonder why consumers shop this site for their foot attire needs. Now, Zappos.com shoppers can save even more money with deals from SavingsDaily.com. This website offers a variety of deals, discounts and coupons as well as cash back on all purchases.
In a world where so many people are unemployed, saving money on basic needs is important. SavingsDaily.com gives consumer the option to save money on shoes, clothing, accessories, gifts and electronics with their discounts. Each day online shoppers can visit the website to find an array of available deals to take advantage of. SavingsDaily.com is different from other coupon sites because they work with major stores and online companies to offer the best deals. Discounts are typically available for several days and site members have a fair chance to not miss a deal.
Once on SavingsDaily.com site visitor will find a variety of categories to choose from. There is an item for every person and to fit every need. From jewelry to cell phones to furniture, this website offers a discount for nearly everything one can think of. Accessing this website is a great way to save money all year round. Check out the specials on gifts for her and gifts for him at SavingsDaily.com for the next holiday, anniversary or special event.
SavingsDaily.com is the smarter way to shop for the things needed most. In addition to the numerous great deals on all types of products, consumers will also get cash back on every purchase. The discounts offered are up to 90% off and the cash bonuses range from 1% to 15%. To get started with the savings visitor simply need to set up a free account through the website. Site members have access to daily deals, receive cash back on all purchases and get email alerts of the newest additions to this savings website.
For more information on SavingsDaily.com visit the website or contact Pavel Kovalev via email at info(at)savingsdaily(dot)com or phone at (877) 782-4815.
###