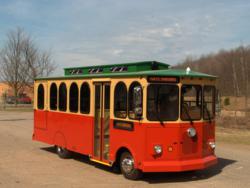 Colton, Ca (PRWEB) January 17, 2012
A-Z Bus Sales, Inc., a leading provider of transportation solutions, announced today an exclusive agreement to be the California dealer for Hometown Trolley.
"We are pleased to have the opportunity to become a dealer for Hometown Trolley" Ed King, Director of Sales and Marketing for A-Z Bus Sales reported. He continued, "Our customers rely on us to provide them with quality, safe products for their ridership programs. We are confident that the Hometown Trolley products will satisfy our customer's wants and needs when it comes to their transportation necessities."
Hometown Trolley built their first trolley in 1978. Their reputation is built upon an ability to combine modern mass transit capabilities with a nostalgic style reminiscent of the 1900's. Every Hometown Trolley is custom built by skilled craftsmen to the precise specifications of the customers, allowing them to accommodate any application, from small private touring to major city transportation networks. Hometown Trolley buses combine the nostalgic look of a "turn of the century" cable car with the state of the art features of a modern city transit bus. Hometown Trolleys are certified Altoona Tested, and meet FMVSS, DOT, and SAE standards.
A-Z Bus Sales, Inc. is a 25 year old, employee owned company specializing in transportation solutions for the government, public sector, education market, commercial and private fleets. A-Z Bus Sales also represents new buses by Elkhart Coach, Glaval Bus, Arboc Mobility, Mobility Works, Braun, Blue Bird, MicroBird and Collins Bus as well as one of the largest inventories of used buses on the West Coast. A-Z Bus Sales provides sales and service for new and used buses, financing of all buses through a large nationwide network and offers parts and services including emissions testing and diesel engine retrofits and warranty repairs.
###