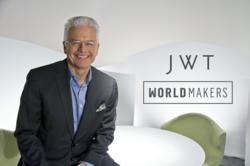 Worldmakers is about having candid conversations with the influencers who shape our culture, and sharing those insights with our clients, and audiences around the world
New York, NY (PRWEB) January 13, 2012
JWT, the world's best-known marketing communications brand, today introduces Worldmakers, hosted by Bob Jeffrey, JWT Worldwide CEO and Chairman. Worldmakers is a web-based talk show series developed, produced and made by JWT, featuring some of the world's most respected thinkers exploring the convergence of advertising, technology and entertainment.
"Our business grants us the privilege of coming into contact with fascinating and inspiring people across all industries, geographies and walks of life; it is what makes JWT worldmade" said Jeffrey. "Worldmakers is about having candid conversations with the influencers who shape our culture, and sharing those insights with our clients, and audiences around the world."
In a nod to the world's largest event celebrating innovation in technology, Worldmakers debuted at the 45th annual International Consumer Electronics Show (CES) in Las Vegas, NV. The first episode features Jeffrey chatting with Carolyn Everson, VP of Global Marketing Solutions at Facebook: http://bit.ly/z8zYtq.
All episodes of Worldmakers will air on JWT's YouTube channel, and will be syndicated across relevant earned media channels and trade/advertising outlets. Interviews will also be posted in real time on Twitter (follow @JWT_Worldwide, #Worldmakers for updates).
Additional interviews conducted at CES include: Keith Weed (Unilever), Brad Harrison (Schick), Jason Oxman (VP at Consumer Electronics Association), Sam Chang (LG Electronics), Janet Scardino (Function(x) Inc), Joe Clayton (Dish Network), Anne Schelle (Open Mobile Video Coalition), Lisa Hsia (Bravo), Rob Barnett (My Damn Channel), Dave Madden (Electronic Arts) and Michelle Moody (Ford).
About JWT
JWT is the world's best-known marketing communications brand. Headquartered in New York, JWT is a true global network with more than 200 offices in over 90 countries employing nearly 10,000 marketing professionals.
JWT consistently ranks among the top agency networks in the world and continues its dominant presence in the industry by staying on the leading edge—from producing the first-ever TV commercial in 1939 to developing award-winning branded content for brands such as Smirnoff, Macy's, Ford and HSBC.
JWT's pioneering spirit enables the agency to forge deep relationships with clients including Bayer, Bloomberg, Cadbury, Diageo, DTC, Ford, HSBC, Johnson & Johnson, Kellogg's, Kimberly-Clark, Kraft, Nestlé, Nokia, Rolex, Royal Caribbean, Schick, Shell, Unilever, Vodafone and many others. JWT's parent company is WPP (NASDAQ: WPPGY).
###