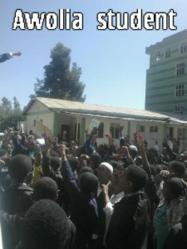 the coercive indoctrination of Ethiopian Muslims with an imported ideology has reached its apex
Washington, DC (PRWEB) January 13, 2012
The Ethiopian-American Muslim Ad-hoc Committee in the Washington Metropolitan Area is saddened by the continued and intensified human rights violation by the regime of Ethiopia of its Muslim subjects. Despite strong resistance and outcry from the Muslim community to the government's plan to impose an alien belief system on Ethiopian Muslims, the Ethiopian Regime is determined to proceed with its plan with full force and resource. To unveil and condemn this terrible human right violation, the Ethio-American Muslims Ad hoc Committee accomplished a well organized mass protest behind the White House and in front state department on November 21,2011.The committee also dispatched several diplomatic letters to various entities around the world.
Based on news from VOA Amharic for more than a week now, students of Awolia, the only institution for Ethiopian Muslims, are denied of their right to education and held as hostage in their respective campuses. Awolia is nearly half a century old community institution that the Ethiopian government recently seized from the public. The institution's academic and administrative staff members including the college Dean and different school directors were removed from their job without any prior notice, without compensation, nor service allowances.
According to BADR Broadcasting Network (BBN) and Selefiya Newspaper, Muslim youth and religious teachers are rounded up, abducted from their houses, work places and from worshiping centers and subjected to humiliation and other inhumane treatments. Several disappearance are being reported; some others had to incarcerate for several days in isolation before they were told to leave the detention centers without even brought before a court and without being told the reason for their detention. The committee is convinced that this unfettered repression and oppression is not limited to the Muslim community; the wider Ethiopian community is being terrorized by the EPRDF Regime of Ethiopia.
Throughout the country, the coercive indoctrination of Ethiopian Muslims with an imported ideology has reached its apex. For instance, a Joint delegation by the Ethiopian Islamic Affairs Supreme Council, as millions describe it "the regime's security apparatus" toured different districts in South Wollo Zone, Amhara region. The delegation declared several prominent Islamic scholars and community leaders as non-Muslims. The committee believes this undoubtedly caused confusion, terror and mass unrest in an otherwise peaceful community, and created a feeling of insecurity and great anxiety.
Ethio-American Muslims Ad hoc Committee firmly stands along with other peace-loving, equality and freedom aspirant Ethiopians in their struggle for justice, equality and real democracy. The Committee also calls up on all Ethiopians to come together now more than ever and stand united against the unprecedented human rights violations in Ethiopia.
Ethio-American Muslims Ad hoc Committee strongly denounce the Ethiopian regime irresponsible and wicked repression. The Committee calls up on the greater Ethiopian Muslim communities and all Ethiopians both at home and in the Diaspora to stand and support the peaceful students Awolia in their struggle for justice.
Ethiopian American Muslims Ad hoc committee
###