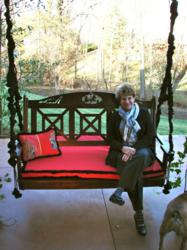 Louisville, KY (PRWEB) January 13, 2012
The new Weather...Or Not™ (WON) swings are being introduced today by Push Back Time, LLC at the International Gift and Home Furnishings Market in Atlanta. The first improvement in porch swings since they were developed in Ancient Greece some 2400 years ago, the WON is at the Push Back Time, LLC booth, W-4-429.
What makes the WON unique is the back pivots and lifts out so homeowners can look one way to enjoy the view--face the other way to talk with friends--or take out the back for a nap on the swing seat. Push Back Time has a patent pending on its swing design.
WON swings are on the Push Back Time website, http://www.pushbacktime.com. Online prices start at $2,800. The swings also will be available from retailers and catalogue companies that place orders during the Gift & Home Furnishings Market in Atlanta.
The WON is solid mahogany and the back comes in four furniture designs including two Chippendales. Each is named after a Duke Ellington tune, as a tribute to the great bandleader who composed "It Don't Mean A Thing If It Ain't Got That Swing."
Becky Irvine, the inventor of the swing and CEO of Push Back Time, LLC, signs and numbers each WON before it is shipped.
Push Back Time, LLC, headquartered in Louisville, Kentucky, also markets a line of pillows Ms. Irvine paints with water-resistant paints and fabrics so they are suitable outdoors as well as inside the home. Many pillows, such as a three-pillow dachshund, complement the Weather...Or Not™ swings while others have sports or holiday themes, or just reflect the Ms. Irvine's artistic whims at the time.
###