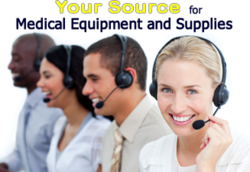 This is without a doubt one of the best business investments we have made.
Issaquah, WA (PRWEB) January 16, 2012
QuickMedical continues to enjoy unprecedented growth in sales and market share. It therefore became necessary to streamline the work of customer service, sales representatives, and administrators by incorporating the latest in VoIP solutions to help boost productivity and reduce costs. ShoreTel was the phone solution that filled their need.
"This is without a doubt one of the best business investments we have made," said Scott Hanna, CEO at QuickMedical. "The ShoreTel VoIP phones are designed to meet the needs of all our users; executives, operators, remote workers, and call center supervisors. The system totally integrates with our company's computers, mobile cell phones, and even home phones."
By switching to the ShoreTel business VoIP telephone system, QuickMedical can reduce communications costs versus maintaining an existing PBX. "We anticipate the system will pay for itself in about a year," said Bobby Beaulieu, IT Director at QuickMedical. "This system reduces costs by streamlining our business processes, putting critical information in reach, and eliminating missed calls and expensive third party conference services."
According to Warren Strasen, COO at QuickMedical, "Thanks to its ingenious purpose-built single–image architecture, the ShoreTel VoIP phone system scales and grows across as many sites, or as many continents, as we need, and because it is an open system, it integrates with our business applications so we get more out of our most valuable assets: people and information."
QuickMedical wanted to avoid complex and resource-heavy IP-enabled solutions. Built from the ground up for reliable IP communications, ShoreTel deploys, scales, and grows with ease. As end users, the entire staff at QuickMedical loves its flexibility and ease of use.
About QuickMedical®:
With great pricing, QuickMedical has the professional medical equipment needed by health care providers. Look for diagnostic equipment, exam tables, weighing and measuring devices, and medical basics such as stethoscopes, thermometers, and sphygmomanometers. QuickMedical also offers a wide selection of professional medical supplies; everything from patient care, to blood testing and exam room products.
###