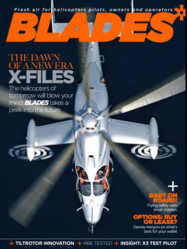 BLADES - The first interactive helicopter magazine for the iPad
(PRWEB UK) 13 January 2012
http://itunes.apple.com/gb/app/blades-magazine/id482096811?mt=8
LOOP Digital Media, the publishers of other aviation apps LOOP, P1, LOOPIN and FLIGHTTEST have launched a fifth app called BLADES - specifically for pilots, owners, and operators of helicopters.
BLADES print magazine has been published for the last four years and now through the iPad it allows the LOOP Digital Media team to make use of the interactivity and video that they could only dream of using before, with video, interviews and footage.
The app celebrates all aspects of being a helicopter owners and pilot shining a light on the best of helicopter flying. With flight tests of the new Robinson R66, world news on helicopters, features on pilots, safety features and gear for pilots BLADES will appear bi-monthly on the App store.
The inaugural iPad issue explores the future of new helicopter innovation and design, taking an in-depth look at the space-age Sikorsky X2 and S-97 Raider, the Eurocopter X3, Agusta Westland AW609, and Russian Helicopters' bold Ka-92.
It's a glimpse into the future that makes being part of the helicopter world such an exciting place to be!
###