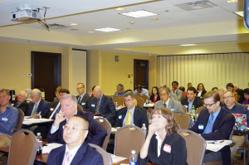 one of the best seminars about attracting foreign investments
Chicago, Illinois (PRWEB) January 13, 2012
Mr. Brain Su, a leading foreign investment expert, is to speak to 100 executives from all over the U.S. about attracting EB-5 capital to their investment projects and opportunities in rural areas and targeted employment areas (TEA). The Las Vegas EB-5 Regional Center Development and Investors Procurement Seminar January 20, 2012 allows commercial real estate developers, hotel operators, private equity firms, attorneys, and financial professionals to learn the Immigrant Investor Program, also known as "EB-5," was created by Congress in 1990 to stimulate the U.S. economy through job creation and capital investment by immigrant investors by creating a new commercial enterprise or investing in a troubled business. More than $3 billion has been invested into American investment projects by foreign investors over the past five years, tens of thousands of American jobs have been created in rural areas and targeted employment areas (TEA).
This seminar will feature the most experienced professionals in the EB-5 investment community. Expert speakers include: Mr. Bernard Wolfsdorf who is the past national President of the 11,000 member American Immigration Lawyers Association (AILA); Mr. Jeff Carr, one of the leading EB-5 economists; John Jiang, CEO of MICON International, who has attracted over $200 million to capital projects in the U.S.; Mr. Edward Carroll, an advisor to the State of Vermont in its initial Regional Center application and subsequent amendments; and Mr. Brian Su, the leading EB-5 program marketer and consultant to various investment projects around the country. Ms. Hong Yu of Wailian Overseas Consulting Group (China) will share her expertise on selecting a viable EB-5 project for Chinese emigration brokers to sell in China.
"Over 1000 commercial real estate developers, attorneys, bankers and investors from all over the country and China showed up at our EB-5 conferences and seminars in 2011, the needs for high quality EB-5 educational events are high. Therefore, I am ready to host 2012's first EB-5 workshop in Las Vegas. The EB-5 program has brought in billions of dollars to many projects in the US, such as hotels, resorts, hospitals, manufacturers, even universities, we have successfully assisted in various EB-5 investment projects with a total value of over $450 million in 2011," says Brian Su, CEO of Artisan Business Group, Inc.
Come learn from the top EB-5 experts how to create a federally designated regional center and attract foreign investment to local communities. The brand new program allows individual EB-5 consultation sessions on the first day; then on the next day, it will offers a full day dynamic workshop at the Embassy Suites Convention Center Hotel in Las Vegas, is hosted by Mr. Brian Su, CEO of Artisan Business Group, Inc., a leader in EB-5 investment consulting and business advisory services. Artisan Business Group has been very successfully organizing major EB-5 business seminars and conferences in Chicago, New York, Las Vegas, Houston, San Diego, Guangzhou (China), Boston, Los Angeles, and Orlando. The event sponsors include The Private Bank of California, American Dream Fund, Fragomen, Del Rey, Bernsen, & Loewy, LLP.
To learn more details about the event and registration,log on http://www.EB5Vegas.com.
Press Contact:
Brian Su
Artisan Business Group, Inc.
http://www.EB5NewsBlog.org
###