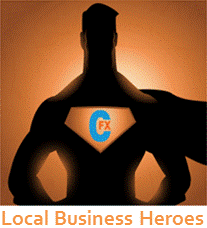 'Local Business Heroes' offers businesses a way to drive sales and give back to the community at the same time.
Las Vegas, NV (PRWEB) January 20, 2012
A new marketing initiative called 'Local Business Heroes', is designed to bring value to both the businesses involved and BBBS. For businesses, the goal is to not only drive sales, but also to strengthen their social responsibility profile. For Big Brothers Big Sisters, it is to raise much needed money to help fund their youth mentoring programs.
Nothing beats word of mouth advertising. How would you like Big Brothers Big Sisters to promote your products and services to their many supporters throughout the Las Vegas Valley? For a small monthly fee, businesses are promoted in many different ways including door to door, truck side advertising on the BBBS trucks, at live BBBS events throughout the year, social media, and mobile phone text messages.
BBBS visits over 10,000 homes per month throughout the entire Las Vegas Valley to pick up donated goods. When the driver makes a pick up, they leave behind a tax receipt/thank you card branded with a company's advertisement.
In addition, the trucks themselves are branded with the company's info under the banner "BBBS is Proudly Supported by These Local Business Heroes".
Cauz-FX also provides each sponsor with two mobile marketing messages per month. Each branded tax receipt left behind at homes encourages donors to text the code 'bbbs' to 99000 to enter free prize draws and sweepstakes. This is proving very effective in building a loyal fan base eager to receive marketing messages throughout the month.
Bill McIntosh, Founder and CEO of Cauz-FX and the creator of 'Local Business Heroes' states; "it is one thing to reach consumers, it is quite another to have them connect with your brand in a meaningful and emotional way through the shared desire to support a worthy cause. That's why cause marketing is such a powerful tool for winning customer loyalty almost effortlessly."
Cauz-FX is acutely aware of how challenging these tough economic times are for not only non-profits such as Big Brothers Big Sisters, but also for local businesses. Although the program is attracting some major global brands such as Geico and 7-Eleven, the program is extremely affordable for companies of any size. The entire program cost is $495 per month which equates to less than five cents per household. A full 30% of that fee goes directly to supporting Big Brothers Big Sisters of Southern Nevada.
Bill McIntosh asks; "what other marketing or advertising program can a company be involved with that not only helps sell their products and services, but also helps change lives?"
The message seems to be getting through.
Mr Hugh Hamilton, owner of a local Geico office in Las Vegas, was one of the first company's to become involved. "I decided to get involved with the Cauz-FX cause marketing program because the staff of our local GEICO office just don't work here, we also live here. Through our involvement with the Cauz-FX program we can get the word out that GEICO does have a local office here in the Las Vegas area in addition to helping a worthy cause like the BBBS organization!"
At this point in time, the Local Business Heroes program is being limited to the first 24 companies to come on board, and is expected to sell out by the end of February.
Cauz-FX is a recognized leader in the field of providing companies with limited time and budgets a turnkey Cause-Marketing Program. For further information on becoming a 'Local Business Hero', companies are encouraged to contact Bill McIntosh directly. He can be reached by email at bill@cauzfx.com or by telephone at 702 578 2297.
###