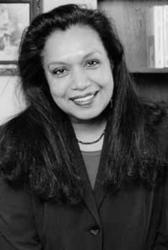 (PRWEB) January 17, 2012
Gargi Roysircar, professor of clinical psychology and founder and director of the Multicultural Center at Antioch University New England (AUNE), has been awarded the Society of Counseling Psychology Best Practice Award. She will receive the award at the annual American Psychological Association (APA) convention, August 2-5 in Orlando, Florida.
"It is clear that your longstanding commitment to integrating evidence-based practice into innovative intervention and training others to do so will guide the future of counseling psychology," wrote Jill Lee-Barber, vice-president for professional practice for the Society for Counseling Psychology, a division of the APA.
Lee-Barber cited Roysircar's work in providing psychological therapy to people in communities affected by disasters such as the 2010 earthquake in Haiti, the 2004 tsunami in southern Asia and Hurricanes Katrina and Rita in 2005 along the United States' Gulf Coast. Roysircar has also worked in Southern African orphanages with children and women affected by HIV/AIDS. In February she will lead a volunteer response team, called Disaster Shakti, to provide counseling services to Haitians recovering from the January 2010 earthquake.
Lee-Barber also applauded Roysircar's outstanding publication record and her contributions to practitioner training. Roysricar has taught at AUNE since 2000.
"This is a huge and prestigious recognition of Gargi's important work," said Kathi Borden, chair of AUNE's Department of Clinical Psychology.
Antioch University New England's Doctoral Program in Clinical Psychology
Accredited by the American Psychological Association since 1986, Antioch University New England's Doctoral Program in Clinical Psychology (PsyD) offers rigorous academic challenge and thorough clinical training, preparing reflective clinicians who undertake multiple roles in their professional careers. The department's core faculty members have made distinguished contributions to professional psychology on the national stage.
About Antioch University New England (AUNE)
Antioch University New England offers highly respected doctoral, master's and certificate programs in education, environmental studies, management and psychology. Located in Keene, New Hampshire, this unique institution serves approximately one thousand students each year. Our graduates have gone on to be leaders of positive change, working toward a more just and sustainable society. Founded in 1964, Antioch University New England is the oldest of Antioch University's graduate campuses. Learn more at: http://www.antiochne.edu.
About Antioch University
Antioch University serves adult students around the world and across the country, online and at its five campuses in four states. Each campus offers degree programs that meet—and often anticipate—the pressing needs of its region and the wider world. The University is also home to the landmark PhD in Leadership and Change; Antioch Education Abroad, an exceptional opportunity of immersive service and study programs; and WYSO, a leading public radio affiliate and an essential source of global news and opinion.
Antioch University is a nonprofit private 501(c) (3) organization and member of the North Central Association of Colleges and Schools, accredited by the Higher Learning Commission. For more information, visit http://www.antioch.edu.
###