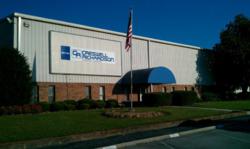 We have been servicing customers in the East Tennessee area for 42 years, and with the Lenoir City location we can provide additional value, localized inventory and training to our partners," announced Rob Creswell, president of Creswell Richardson.
(PRWEB) January 16, 2012
Creswell Richardson is pleased to announce the opening of their new location in Lenoir City, TN. This new location will enable Creswell Richardson to better serve their customers in the North East Tennessee Area. The new facility allows Creswell Richardson to provide training for its customers. It also is a stocking location with 50,000 feet of warehouse space. This compliments the company's main headquarters and distribution center in Chattanooga, TN and IDC-USA distribution centers in Indianapolis and Reno.
Creswell Richardson has been servicing customers since 1970. They provide mechanical, electrical, pneumatic, fluid power and mro products to manufacturers. They also provide electrical and mechanical engineering to their customers.
###