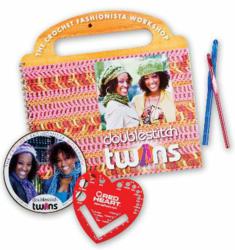 As we grow as designers, we appreciate each opportunity we get to share our design evolution with past, present and future crocheters.
Charlotte, NC (PRWEB) January 24, 2012
Red Heart is excited to introduce The Crochet Fashionista Workshop the latest stylish inspirational Workbook-DVD-Kit from Erika and Monika Simmons, aka "The Double Stitch Twins", crochet fashionistas and award winning designers.
The Double Stitch Twins new kit, The Crochet Fashionista Workshop, is a reflection of who they are as people, as well as designers. Erika and Monika's goal for The Crochet Fashionista Workshop is not only to share crochet pattern designs, but to provide a new reference that changes the way crocheters look at crochet from the very beginning of the creative process.
"Our perspective on color, shape and versatility is something that we are honored to share with others, because we feel that it will continue to keep the beautiful craft of crochet moving to the next level, all over the world!" said Monika Simmons.
The Crochet Fashionista Workshop Kit includes a 64-page book that is actually purse-shaped with a stylish printed wood-grain handle, setting the stage for a fun crochet experience. Learn how to develop your crochet skills the "fashionista" way, with attractive color illustrations that relate to each of the projects. There are 14 projects that are not only designed by, but also modeled by the twins, 2 Susan Bates crochet hooks, a heart-shaped stitch gauge and needle/hook sizing tool. Plus, a DVD that features the Double Stitch Twins as they take on Chicago and present two video workshops. Preview the video online at the Red Heart yarns YouTube Channel.
"As we grow as designers, we appreciate each opportunity we get to share our design evolution with past, present and future crocheters. We learn more about crochet each day, and it feels good to know that crochet fashionista's will explore the joy of the wonderful craft along with us, through our The Crochet Fashionista Workbook," said Erika Simmons.
About Susan Bates®
The Susan Bates® line of hand crochet and knitting implements and accessories is known for quality at affordable prices. We make your crochet and knitting experience easy and enjoyable, whether you are a beginner or an experienced crafter. Don't forget to "like" us on Facebook.
About Red Heart®
Red Heart® is one of the most trusted brands in yarn. For over 75 years, more people have chosen to make heirlooms using Red Heart yarn than any other yarn. Red Heart yarns stand for quality, largest color selection, fashion and above all else, crafted with love. Whatever your creativity calls for, you'll find it in the Red Heart family. Explore our vast selection of yarns, booklets and free patterns for all skill levels. A little bit of love woven into every strand.
Together we find inspiration. Red Heart and You. Two Hearts, One Passion.
For more information on Red Heart® please visit, http://www.redheart.com.
About Coats & Clark
Coats & Clark is one of the most recognized names in yarn, sewing and needlecraft products in America. First marketed in 1936, the Red Heart® brand today continues to exude its founding principles; quality, value and inspiration for the knitting and crochet enthusiast.
# # #