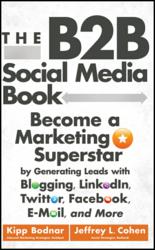 Hoboken, NJ (PRWEB) January 17, 2012
Social media has received a tremendous amount of coverage, however rarely is the impact of social media on business-to-business (B2B) companies discussed. In addition, B2B marketers are often undervalued and underappreciated in many companies. It's time for B2B marketers to understand why social media is a better fit for relationship-based sales, and how applying the right techniques to their campaigns will not only accelerate their business but careers.
Kipp Bodnar of HubSpot and Jeffrey Cohen of Radian6 tell it all in their new book, The B2B Social Media Book: Become a Marketing Superstar by Generating Leads with Blogging, LinkedIn, Twitter, Facebook, Email, and More (Wiley; January 2012; Hardcover; 978-1-1181-6776-2; $24.95). Combining their professional expertise, both authors feel strongly about B2B marketing and the ability to utilize social media effectively. The book includes techniques on how to:

generate leads using social media with a 5-step process
create content offers that increase conversion rates
use social media marketing to meet business objectives
incorporate mobile strategies into the marketing mix
improve team performance by using Agile methodology to run a marketing team
measure the return on investment of B2B social media strategies
Social media and online marketing provide the right mix of rich data and reduction in marketing expenses to help transform a marketer into a seasoned veteran. This book is filled with chapters to help B2B professionals understand,
Why B2B Is Better at Social Media Then B2C
The importance of creating Ebooks and Webinars that Prospects Love
How to avoid the 10 B2B Social Media Roadblocks
How to make Trade Shows Social
How to run a B2B Social Media Marketing Team like a Start-up
The B2B Social Media Book helps readers establish a strong social media marketing strategy to generate more leads, become a marketing superstar in the eye of company leaders, and most importantly, contribute to business growth.
About the Authors:
Kipp Bodnar (Boston, MA) leads HubSpot's content marketing team, a group of marketers that use social media, content, and search engine optimization to get HubSpot found by prospective customers. Kipp is also the co-founder of SocialMediaB2B.com, the leading multi-author blog for marketers looking to learn and understand the applications of social media in business-to-business (B2B) marketing. Kipp is a frequent speaker at industry events including Blogworld Expo, Marketing Profs B2B Forum, and the Minnesota Interactive Marketing Association Annual Meeting.
Kipp Bodnar is Inbound Marketing Strategist at HubSpot, the inbound marketing software leader that provides integrated tools for marketers to generate and manage leads online. Kipp leads a team of marketers that guide and execute HubSpot's inbound marketing content strategy. This includes creating content for Blog.HubSpot.com, webinars, ebooks, social media and other channels to help educate marketers and generate leads.
Kipp is an experienced social media marketer who co-founded SocialMediaB2B.com, the leading online resource for social media's impact on B2B marketing. He also writes on his personal blog DigitalCapitalism.com as well as guest postings on other leading marketing blogs. He lives in Boston with his loving wife, two hyper-active beagles and good rye whiskey that serves as anti-freeze for the long New England winters.
Jeffrey L. Cohen (Durham, NC) is a Social Strategist at Radian6, a salesforce.com company. Radian6′s social media monitoring software helps businesses listen, discover, measure and engage in conversations across the social web. Jeff works with B2B and B2C enterprise companies to assess their social media strategy and adoption, and advises them on how social media marketing, communications and engagement can help them meet their business objectives.
With more than 20 years experience, Jeff has provided strategic marketing counsel to B2B and B2C companies on both the client and agency sides. Jeff is also the co-founder and Managing Editor of SocialMediaB2B.com, the leading online resource for social media's impact on B2B marketing. He lives in Durham NC with his two kids and a wooded backyard.
###