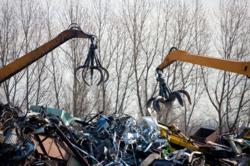 Worksop,UK (PRWEB UK) 16 January 2012
EMR, one of the world's largest metal recycling companies, has expanded its operations in the UK with the addition of a new facility in Nottinghamshire.
The Worksop depot is now open for business. "As well as all grades of ferrous and non ferrous metals, the site is licensed to accept End of Life vehicles and is equipped with a specialist depollution rig," said EMR General Manager Ian Sheppard.
Prior to opening the Sandy Lane site, the company made a significant investment in the infrastructure of the facility to bring it to the standard of other more established EMR locations. The new facility has been fully concreted and is laid out to ease traffic flow and prevent congestion at the entrance of the yard, giving suppliers a quick turnaround when making deliveries.
The Worksop site is located adjacent to the world leading plastic recycling joint venture between EMR and MBA Polymers.
This additional location takes the number of EMR sites in the UK to over 70 and moves the international total to over 150.
EMR Worksop is open from 7am to 5pm Monday to Friday and 7am to midday Saturday.
For more information about EMR go to http://www.emrltd.com
###