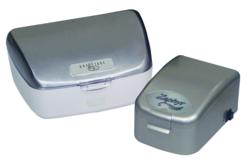 Johnson City, TN (PRWEB) January 26, 2012
Cupid, draw back that bow...And deliver better hearing to loved ones who will be happy waking up to fresh, clean, and crisp-sounding hearing instruments. With Dry & Store, users with all types of hearing devices report that they sound better and feel more comfortable too.
Dry & Store is an electrical appliance for nightly use at home to store and care for all types of hearing instruments, including hearing aids, cochlear implant hardware noise/tinnitus maskers, and ear monitors. It combines the three essential elements needed for effective drying: gentle heat, moving air, and a desiccant that drives the relative humidity really low, then captures the moisture that is released. During the first ninety seconds of the Dry & Store Global II cycle, a germicidal lamp sanitizes the hearing instruments, then the active drying continues for 8 hours. The unit then automatically shuts off, continuing to store the instruments safely until they are needed.
Since all of its patented technologies are contained in one fully-automated unit, Dry & Store is incredibly easy to use. Hearing instruments are placed in the tray (batteries and all) and the ON button is pressed. That's it!
The flagship model, the Global II offers all of the benefits of Dry & Store conditioning-heat, moving air, and a germ-killing cycle. Great for both home and travel, as well as international use. The Global II accommodates all styles of hearing aids and implant equipment.
Both models, the Global II and Zephyr utilize the same powerful desiccant - the Dry-Brik II - to capture both moisture and odors.
The Zephyr has the same renowned drying and deodorizing benefit as the Global II, but it does not have the germicidal lamp. Even though it's a smaller package, it still packs a punch...
http://www.youtube.com/watch?v=EPTvo28HN7k
###