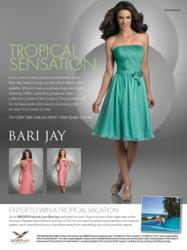 NEW YORK, NY (PRWEB) January 15, 2012
Bari Jay, a leading bridesmaid design house, announced today a contest with Brides Magazine to win a five night stay in FIJI. The contest is tied into Bari Jay's news tropical colors.
The colors were recently added: Sea is a beautiful light blue/green in the iridescent chiffon fabric. Melon is a tropical color in the coral family with a lighter pink tone, also in the iridescent chiffon fabric. Seamist is also a blue/green that is offered in Charmuese and the Bella Chiffon and matching Charmuese fabric group.
Bari Jay is currently taking orders on these colors. Samples of dresses in these colors, starting with the Fall 2012 line, will be in stores this summer.
The contest offers five nights at the tropical paradise Yasawa Island Resort and Spa. See http://condenastdirect.com/barijay/index.cfm for more information and trip details and rules.
This would be an amazing addition to any honeymoon!
Bari Jay Inc. specializes in the design and manufacturing and distribution/sales of Bridesmaid, Prom and special occasion dresses. Bari Jay dresses consist of two lines; Bari Jay and Shimmer and are sold in stores across the United States as well as internationally. In business for over 50 years, Bari Jay is a family business owned and operated by two sisters. For more information please visit http://www.barijay.com.
Contact: Erica Cohen at pr(at)barijay(dot)com
###